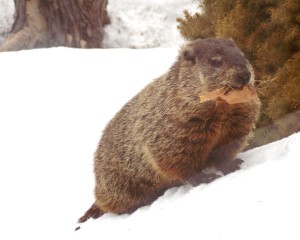 Potpourri is originally a French term that, in English, is now used to refer to a variety of things that are not related to each other. Today's post is a potpourri of items that are unrelated, but still, I hope, interesting:
1. Groundhog Day – Today is February 2nd, which each year is marked (celebrated) most famously in the United States in the small town of Punxsutawney, Pennsylvania. According to tradition, if a groundhog (see photo) sees its shadow on this day, we will have six more weeks of winter. This year, Punxsutawney's most famous groundhog, named Phil, did not see his shadow, which means we will have an early spring. That's good news for those like me who hate cold weather, although living in Los Angeles, I define "cold" as anything less than 60 degrees F (15.5 Celsius).  (I talked about Groundhog Day – ten years ago! – on English Cafe #11, now available to Premium subscribers.)
2. Iowa Caucuses – Yesterday was the official beginning of the long presidential election season (period of time) in the United States, which will end on the first Tuesday of November with the election of a new president. I have attempted to explain our somewhat crazy process of selecting a president in the U.S. a few times (here and here). This promises to be (is likely to be) one of the stranger presidential elections in my lifetime; I'll write more about that in the future.
3. Super Bowl 50 – This Sunday, February 7th, is one of the popular sporting events of the year in the U.S., the Super Bowl. If you plan on joining the approximately 120 million people who will be watching on Sunday and aren't sure about how American football works, I tried to explain it here. A lot of Americans who don't normally like football watch it anyway, in part for the halftime show, entertainment that takes place in the middle of the game, between the first and second half of play (more on this halftime show here).
Up until this year, the number of the Super Bowl has always been written with Roman numerals (the way the ancient Romans wrote numbers). Last year, for example, the 49th Super Bowl was written as "Super Bowl XLIX." This year, however, the organizers of the Super Bowl decided to change to "regular" digits, so instead of "Super Bowl L" (L is the Roman numeral for 50), it is "Super Bowl 50." Why?
Well, one reason is that the letter "L" is associated with the word "loser," and no one wants to be a loser! Nevertheless, there will still be a loser, since only one team can win (personally, I don't care who wins or loses). Apparently the change will only affect this year; next year, it will be called "Super Bowl LI" (L = 50, I = 1), using Roman numerals again.
4. Mardi Gras & Lunar New Year– The Christian season of Lent (a period of preparation before Easter) begins a week from tomorrow, and this means that in New Orleans this week will be spent celebrating Mardi Gras. New Orleans is famous in the U.S. for its "Carnival" or Mardi Gras celebrations. You can learn more about New Orleans here and Mardi Gras here and here (note: audio for some of our older Cafes are only available to Premium members).
Next week is also the celebration of the Lunar New Year, which is observed in many Asian American communities in the U.S. as well as in several countries around the world. Southern California has many such celebrations, since there is a large population of Asian immigrants and Asian Americans living here; learn more about it here and here. This year is the Year of the Monkey!
5. Learn English Magazine – Forget about celebrating Mardi Gras, Lunar New Year, and the Super Bowl. Don't worry about who our next president will be or whether we will have six more weeks of winter. Here's the really important news of the day: the newest issue of our new, free magazine, Learn English Magazine, is now available to download!
Get the app for iOS or Android devices, and check it out. You can see a magazine-only video explaining the phrase "right on the money," and read other cool and interesting articles from our team of amazing writers. And there's even a funny cartoon at the back of this issue.
What are you waiting for? Go here to download the app and get reading!
~Jeff
Image Credit: Wikipedia