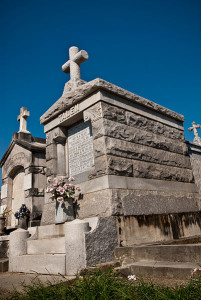 When I say "New Orleans," you might immediately think about 2005's Hurricane Katrina which killed over 1,200 people and did more than $100 million in damage.
But on the eve of (just before) October 31st, Halloween (see posts by Jeff, Warren, and me), I want to focus attention on one of New Orleans' most famous and creepy (causing fear; scary) attractions: its cemeteries (areas where dead people are buried or placed).
When you approach (get near) one of New Orleans' traditional cemeteries, you'll immediately see the above-ground tombs (structures where the bodies of the dead are placed) (see photo). Many of these structures are large, elaborate (fancy, with many parts), and old.
What gave rise to (was the reason for) these impressive-looking above-ground tombs?
New Orleans is built partially on a swamp (a low area where water naturally collects). Because of the high water table (the level below the ground where water naturally appears), it has traditionally been necessary to build stone tombs and mausoleums (large buildings where more than one tomb can be placed) above ground. If you tried to bury the dead in the traditional way, you'd find that holes dug in the ground fill with water. When the area floods (is temporarily covered in water), coffins (large boxes in which dead bodies are placed) can actually become unearthed (removed from the surrounding dirt) and float (move to the top of the water) to the surface!
While New Orleans is not the only city in the U.S. with a high water table, it is unique in its number of above-ground tombs, with 90% of the dead placed in these structures in some traditional cemeteries. Over the years (during a period of many years), some of the tombs have become quite elaborate, with sculptures (figures of people, animals, and things made of stone or other hard material) and decorations, making the cemeteries look like small villages (towns). In fact, one nickname for the cemeteries is "Cities of the Dead."
Unfortunately, some of these tombs and mausoleums have fallen apart from the ravages of (damage caused by) weather and neglect (not being cared for). Some of the structures are very old and family members no longer have or want to spend the money to maintain them. Very little city money is allotted (put aside; budgeted) for cemetery maintenance. Volunteer (not paid) organizations like Save Our Cemeteries are trying to keep the structures from crumbling (falling apart into many pieces).
I had the pleasure of visiting New Orleans many years ago, before Hurricane Katrina, and was able to see one of these fascinating cemeteries. I hope that with the help of volunteers, this unique feature of New Orleans can be preserved (kept in good condition) for future generations of residents (people who live there) and visitors. You can see more photos of these cemeteries on the Save Our Cemeteries website, including its blog.
~ Lucy
Photo from Wikipedia