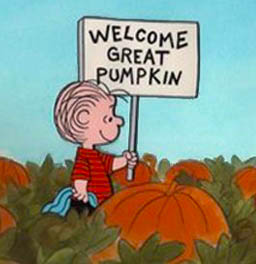 Forty-five years is a long time to wait for anything. But that's how long Linus has been waiting for the "Great Pumpkin" to appear.
Linus is one of the characters from the popular Peanuts comic strip (picture stories that appear in newspapers). Listen to him tell his friend Snoopy why he's been waiting:
On Halloween night the "Great Pumpkin" rises out of the pumpkin patch (garden) that he picks as the most sincere (honest, truthful). Then he flies through the air bringing toys to all the good children in the world. Just think, Snoopy, if he picks this pumpkin patch, you and I will be here to see him!
Linus is sure he's right. But his friends aren't. Charlie Brown, his best friend, thinks Linus is confused (not able to think clearly):
Charlie: I can't believe in the "Great Pumpkin" because I've never seen him!
Linus: But he exists (is real). I tell you! On Halloween night he rises out of the pumpkin patch, and flies through the air!
Charlie: I think you have him confused with Santa Claus.
Linus: Would I confuse the sun and the moon? Would I confuse NBC with CBS (TV networks)? Would I confuse the American League (group of baseball teams) with the National League? Would I?
Charlie: (to himself) I can't stand (accept or put up with) it!
Lucy is sure that Linus' problem is much worse than being confused:
Lucy: Stupid*! Foolish*, that's what it is! Stupid and foolish!
Linus (writing to the "Great Pumpkin"): Dear Great Pumpkin – Halloween will soon be here. We are all looking forward to your arrival.
Lucy: Ridiculous*!
Linus (writing) Next week you will rise out of the pumpkin patch, and fly through the air.
Lucy: Absurd*!
Linus (writing) You will bring presents to all the good little boys and girls in the world.
Lucy: Preposterous*!
Linus: I have tried to be good all year long, and hope that you will bring me lots of presents.
Lucy: Crazy*! Completely crazy!
Lucy (as Linus puts on his coat and prepares to take his letter to the mailbox): Outrageous (shocking)! Insane*! Totally and completely insane!
Linus hasn't convinced (to make someone believe) his friends about the "Great Pumpkin," but after arguing with them and waiting for all these years, he has learned one thing:
(Talking to himself) I should have known better … There are three things I have learned never to discuss with people … religion, politics and the "Great Pumpkin".
After 45 years, the "Great Pumpkin" still hasn't appeared. But a television special – It's the Great Pumpkin, Charlie Brown – has. And it is rerun (played again) every year. So every year we wait with Linus, watch the television special, and hope … that this will be the year.
* Vocabulary note: stupid, foolish, ridiculous, absurd, and preposterous all have the idea of being silly or unreasonable; ridiculous adds the idea of "very"; absurd and preposterous add the idea of "completely". Crazy and insane suggest mental problems.
~ Warren Ediger – ESL coach/tutor and creator of the Successful English web site, where you'll find clear explanations and practical suggestions for better English.
Peanuts comic strip conversations from www.peanuts.com.
Photo courtesy of Wikipedia Commons.