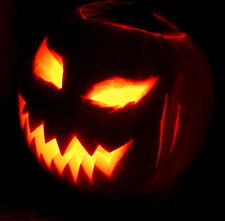 Tomorrow is Halloween, a night traditionally (typically; usually) associated (connected; related) in the United States with young children dressing up (putting on clothes) in costumes (clothes that make you look like someone else) and going door to door (house to house) asking for treats (sweets; candy). (We talked about it here, here, and here.)
Halloween has usually been thought of (considered) as a holiday for young children. Not any more.
When I was growing up, you stopped celebrating Halloween sometime in junior high (grades six to nine). Adults sometimes had parties where they would also dress up in costumes, especially in college, but the focus of the holiday was almost always on the children.
According to a recent article, however, this has changed dramatically (significantly; a lot) in the past few years. Consider the following facts on what has been called the "adultification" (making of something into an event for adults) of Halloween:
Adults will spend $8,000,000,000 on Halloween costumes and parties this year (yes, you read that correctly: eight billion dollars!).
In 2005, when asked if they were going to celebrate Halloween, 52% of adults said yes. This year, in 2012, it's 71.5%.
Ten years ago, fewer than three out of 10 Halloween costumes were purchased (bought) for adults. In 2012, it's more than six out of 10. More Halloween costumes are now sold to adults than to children.
The average Halloween customer (buyer) will spend $123 on a costume this year. That's more than double what was spent only one year ago!
Halloween is now the #2 holiday for spending on decorations (things you put in a room to change its look or appearance), after Christmas. It's also the #2 holiday for spending on alcohol, after New Year's Eve (celebration on December 31st).
Why this sudden popularity of Halloween for the 18 and over (adult) crowd (group of people)?
Some attribute (give as the cause or reason) it to the success in the late 1970s of the Halloween franchise (a collection of related films, books, and products).
Others have claimed (stated; said) that Halloween is something you celebrate with friends, whereas (while) the other holidays are more for your family. The thinking goes (The idea is) that as families become less important in the lives of adults, friends take on (acquire; get) more and more importance in one's social life (non-work activities).
I last celebrated Halloween more than 30 years ago by going to a friend's party. Most of the people there didn't even wear a costume (I didn't).
I don't plan on celebrating this year, either. But apparently (it seems), I am in the minority (a group with less than 50% of the population).
~Jeff
*The title of this post comes from an old expression, "It's like taking candy from a baby," which refers to something that is very easy to do. Here I am talking about literally (actually) taking candy from the babies and giving it to the adults!
Photo credit: Jack-o'-Lantern, Wikipedia CC