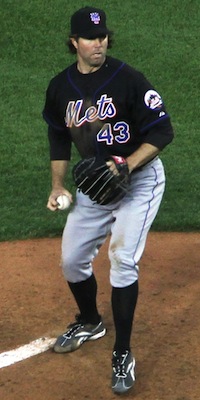 Baseball may be the great American pastime (enjoyable activity), but it is so boring! That's what some people say. They say the game moves too slowly – there are short periods (times) of action, but they're separated by longer periods of boredom (the feeling you have when you're bored).
I beg to differ (politely disagree).
Baseball is a team game. But much of a team's success depends on the results of an ongoing (continuous) battle between two men, one from each team. One is the pitcher (who throws the baseball). The other is the batter (who tries to hit the ball). Each team has only one pitcher. But all the team members take turns being batters, trying to hit the ball. This battle, IMO (in my opinion), is what makes baseball fun and, often, exciting.
The pitcher tries to throw the ball so fast or make it move so much that the batter can't hit it. The names we use for pitches (the act of throwing) tell us something about them. Fastballs are fast – often around 100 miles per hour (160 kph). Curveballs curve (turn) – left, right, or down. Sinkers sink (drop). A changeup looks fast but isn't.
A good pitcher uses a variety of pitches to try to confuse the batter and make it even more difficult for him to hit the ball. The hitter must anticipate (to expect something and be prepared for it) what kind of pitch the pitcher will throw and try to hit it.
Speed, control (ability to make the ball do what you want), strategy (a planned series of actions for achieving something) – these are the pitcher's tools. And this year, one of the best pitchers in American baseball had none of them. That's right. One of the best pitchers in baseball, the pitcher who won the battle between pitcher and batter more times than any other pitcher, did it without the tools a pitcher usually uses.
So, what was his secret?
Let's begin with a little science. When a ball flies through the air, it spins (turns round and round very quickly) – usually. The spinning action determines whether the ball will fly straight, curve, or sink. A baseball pitcher learns how to spin the ball so it will do what he wants. That is, every pitcher except R. A. Dickey.
When R. A. Dickey throws the baseball, it doesn't spin. When a baseball doesn't spin, it becomes unpredictable (don't know what it is going to do). It may curve left. It may curve right. It may sink. And sometimes it seems to do all of those and more! We call this pitch a knuckleball. The pitcher can't control it. And the batter can't predict (say what will happen before it happens) what it will do. The result – the batter can't hit the ball, and the pitcher wins the battle.
Dickey always wanted to be a professional baseball pitcher. He tried, but failed. He couldn't throw the baseball well enough to make it (have success) as a professional pitcher. Doctors discovered that a ligament (material that holds bones together) was missing from his arm. And without that ligament, he couldn't throw the ball the way pitchers usually do.
Dickey decided to learn how to throw the knuckleball, something very few pitchers have ever done. It's easy on the arm (doesn't hurt the arm), but difficult to do well. It took six years for him to perfect (make something as good as possible) the knuckleball, but he did. And this year he was one of the best pitchers in professional baseball.
If you'd like to read R. A. Dickey's story, you can do it here. And if you'd like to learn more about baseball, read Jeff's blog post Pinch-Hit Grand Slam or listen to English Cafe #50.
~ Warren Ediger – creator of Successful English, where you'll find clear explanations and practical suggestions for better English.
Photo of R. A. Dickey courtesy of Wikipedia Commons.