Thursday - February 25, 2010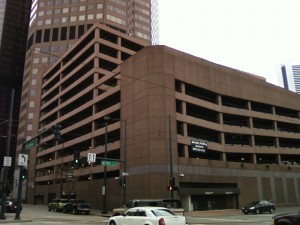 What words come to mind (what words do you think of) when someone talks about a "parking garage" or "parking structure (building)"?
I asked a few other people the same question. They said ugly. Necessary. Convenient (useful because it saves time). Scary. Dirty. Dangerous. When I looked at some articles online, I found a few more adjectives, such as utilitarian (practical but not attractive), austere (without decoration), and forlorn (empty and sad; often in bad condition). It doesn't sound like parking structures have a very good reputation (how people think about them)!
All of that may change soon in Miami, Florida. There is an urban renewal (improving a city by building new buildings, bringing in more businesses, and more) project, called Lincoln 11 11, that may change how people think about parking structures.
A property developer is a person or company that makes money by buying land and building something on it to sell or lease (rent). A property developer in Miami has almost finished building a parking structure that includes condominiums (apartments that people own), high-end (expensive, exclusive) stores, a place near the top for people to gather with their friends to enjoy the view of the Atlantic Ocean and the beaches and – I almost forgot! – a place to park cars.
This new structure is very modern (not traditional). It was designed by the same company – from Switzerland – that designed the new Tate Modern Museum in London and the Bird's Nest Stadium for the Olympics in Beijing. A bank building used to sit (be in the location) where the parking structure is being built. Unfortunately, the bank building became damaged by rioters (large group of people causing trouble or violence) and neglect (no one took care of it).
If you'd like to see the structure, go to the developer's web site. When you get to the site, you'll have to click on the middle of the screen to continue. To see pictures of each part of the structure, click on the words Vision, Architecture, Retail, and Residential. There are also some good pictures here.
The area – along Lincoln Road – where the structure is being built was a popular shopping area many years ago. However, by the 1950s it had faded (slowly disappeared). Happily, in the 1960s the area was revived (brought to life again). Today it's a popular place for people to visit and shop.
The developer says that his idea – for the parking structure – is to bring people, events, parties, and life into the building, along with cars, of course. Both the designers and developer see the structure as an exciting experiment.
What do you think? Will it succeed (be successful)? Would you like to live there?
~Warren Ediger – ESL teacher/tutor, perpetual (permanent) student, writer, musician, father and husband, and creator of www.successfulenglish.com.
Parking structure photo used under the Creative Commons Attribution-Share Alike 3.0 Unported license.