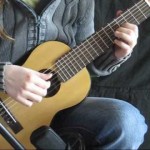 Have you ever heard the famous saying: "Necessity is the mother of invention"? Necessity is a need for something and invention is the creation of something new, something that no one has ever made before.
Many new inventions come about (result) by combining two or more things into something new.  Cars are a good example.  Hybrid cars (often simply called "hybrids") are cars that combine an all-electric car with an all-gasoline-burning car to create a car that runs on part electricity and part gasoline. In this case, our need for more efficient and cleaner fuel (power) was the mother of invention.
When speaking of food, we often use the term fusion to talk about the blending of (putting together of; combining of) two or more types of cooking to make a new type of cuisine (fine food; cooking).  In Los Angeles, Asian fusion is quite popular, with chefs (professional cooks) combining ingredients (individual parts of food) or cooking techniques of Asian food with those found in French, Italian, Middle Eastern, or other types of cooking. What is the necessity that is the mother of invention here?  To please curious palates (mouths; tastes)?  To lure (attract) to one place people who like different types of cuisine? The wish to create something new and innovative?  Perhaps it's a combination (fusion?) of all of these reasons.
I recently come across a new and interesting combination in music.  You may have heard of the ukulele, an instrument used in traditional Hawaii music.  It is a small instrument with four strings.  And you all know what a guitar is, an instrument with six strings that no rock musician could do without.  But have you heard of a guitalele?
As the name suggests, the guitalele is a cross between (combination of) a ukulele and a guitar.  It has six strings like a guitar, but it is closer in size to a ukulele.  From the clips (small segments of audio or video) I've seen on YouTube, it sounds marvelous.  What is the necessity that prompted (encouraged) this invention?  To help smaller musicians?  To have an instrument with a really funny name that makes you laugh each time you hear it?  I'm not sure.  Unfortunately, for Americans, the inexpensive guitalele by Yamaha is not sold in the U.S. Why?  I can only guess that they are still holding the funny-looking spork against us.
(By the way, "a cross between" is a very useful general phrase meaning a combination of two things.  For example, in movies, a cross between a comedy and a romance is called a romantic comedy.  With animals, a mule is a cross between a horse and a donkey. And when describing Jeff's looks?  He's a cross between Brad Pitt and George Clooney, of course!)
~ Lucy