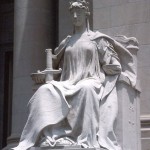 Every January 1st, new laws go into effect and people must begin to follow them. Last year in the U.S., 40,000 new laws were passed.  Here are a sampling of (examples of) some of the new laws now in effect in the U.S.
* In the state of Texas, a new law says that teenagers (people between the ages of 13 and 19) must be accompanied by (be with) an adult if they want to use the facilities at a tanning salon.  Tanning salons are business where people go to have special lights shine on their skin so that it becomes darker, so they'll have a suntan.
* If you're driving in the state of Ohio, be sure to turn on your headlights (lights at the front of a car or vehicle that allows you to see the road in the dark) while it is snowing.  If you don't, you'll get a ticket.
* The state of Illinois became the 19th state to outlaw (make illegal) texting, sending and receiving electronic messages, while driving.
* If you live in Kentucky and you want to get a payday loan, the new cap (limit) is $500.  A payday loan is a loan you get from a private business that will lend you money until you get your next paycheck.  Unfortunately, most payday loans require very high interest rates, so you would have to pay those high fees, too, when you get your paycheck.  Of course, we don't recommend getting a payday loan at all, as we talked about in English Cafe 94.
* In California, it is now illegal for restaurants to use oils, margarines, and shortenings (animal fat) that contain more than half a gram of trans fat, a type of unhealthy fat.
* Also in California, it is now against the law to cut off a cow's tail, unless it is medically necessary, that is, only if a veterinarian (animal doctor) says the cow needs to have it cut off for the good of his or her health.  So those who collect cow tails, beware!
Are there any unusual or surprising laws where you live, past or present?
~ Lucy
P.S.  The photo above is of Lady Justice, a symbol of the judiciary, the system of courts in the U.S.  Any depiction (image; drawing; painting; statue) of Lady Justice always has three things:
a sword (very long knife used as a weapon) to symbolize the power of the courts
a set of scales (device use to measure weight by putting weight on both sides until both sides are at the same level) to represent the weight of evidence on both sides of an issue
a blindfold, cloth over the eyes of Lady Justice, to symbolize impartiality (fairness; the ability to treat everyone the same)
P.P.S.  Thanks to all those who read and comment on our blog posts.  It's one of the ways we know what you like and what you want to see more of on the blog. That's why we really appreciate you taking the time to give us your feedback!