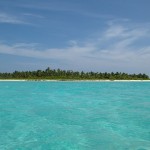 I often come across desert island questions, asking if we were stranded on (not able to leave) a desert island, or a deserted island, that is uninhabited (with no people, other than me), what would we want to bring along?  It's not too difficult to select our favorite books or movies to accompany (go with) us to our lonely new home, I think.
But what if you were stranded on a desert island and given the chance to have one companion, someone to keep you company (give you friendship or companionship)?  This person cannot be a relative or even someone you know personally, such as your spouse (husband/wife), boyfriend/girlfriend, or best friend.  It must be a historical figure (someone famous from the past) or a character from books, movies, or TV shows.
Of course, those of you who are practical-minded (thinking of and doing the most useful things) may immediately think of someone like MacGyver, or someone else who is extremely resourceful (able to do a lot with only a little), to help you on the island. This person would certainly be helpful as a companion, so let's assume he's already on the island with you.
The question is:  If you were picking someone else to be on your desert island, who would you pick?
You might be interested to know that when I asked Jeff this question, first he said he might pick someone like Socrates or Albert Einstein.  And then, he thought for a minute and asked me, "Is my wife dead?" so we know where his mind was going…and of course, we don't blame him (say that he did something wrong)!
I'm still trying to decide. I think I would pick someone who is a great storyteller to help me pass the time.
Who would you pick and why?
~ Lucy