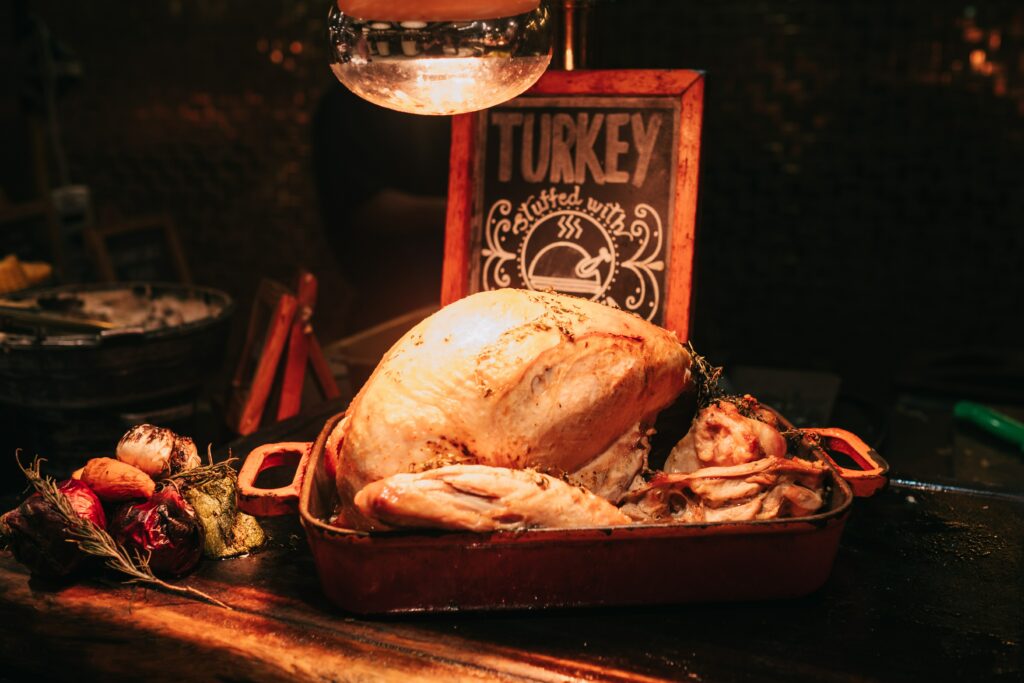 In the fall of 1621, the Pilgrims, a group of mostly English citizens who were among the first to settle (move to and live) in what is now the northeastern U.S., held a three day celebration for a bountiful harvest.
Harvest refers to the food you get from trees and plants, usually (in the U.S.) in the autumn (fall). Bountiful means a lot of something, often more than you need.
The local American Indian tribe (group), the Wampanoag, participated in the 1621 celebration as well.
This celebration by the Pilgrims is considered the first "Thanksgiving," a giving of thanks for the blessings (favors given by God) to the early settlers (colonists; people who move to a new place to live).
Thanksgiving became a national holiday in the U.S. in the middle of the Civil War, in 1863. President Lincoln declared (announced; decided) that the last Thursday in November would be a day of giving thanks. Americans still celebrate it today.
(To learn more about Thanksgiving, see our Cultural English #60.)
Beginning in the 1930s, the day was changed to the fourth Thursday in November, in case there were five Thursdays in that year.
Favorites at Thanksgiving in many families (including mine) are turkey and cranberry sauce, a sweet sauce made from small berries.
But where do we get our turkeys?
The #1 turkey-producing state in the U.S. is my very own Minnesota, which raises 45 million turkeys a year!
Next are North Carolina and Arkansas, followed by Indiana, Missouri, and Virginia. These six states produce two-thirds of all turkeys raised in the United States. There are around 240 million turkeys sold in the U.S. each year.
Turkey is so popular in the U.S. that we have a few small towns with the name "turkey" in them, including Turkey Creek, Arizona (population: 294) and Turkey, Texas (population: 384).
I never knew that Minnesota produced so many turkeys. I will be thankful for my home state as I sit down this Thursday and fill myself with lots and lots of turkey.
~Jeff
P.S. Like this short English lesson? Then you'll love our Unlimited English membership: https://tv.eslpod.com
Get a FREE sample lesson (no money needed) – SIGN UP BELOW!
Just fill out the form below and we'll send a FREE lesson to try!
We hate spam, too! We will never sell, rent, or give your information to anyone – ever!
What Will I Learn in My Free Lesson?
Here is just a small part of what you're going to learn in this free lesson:
What "take a rain check" means and how to use it in a conversation . . .
The difference between a "recluse" and a "busybody" . . .
Why "to fend OFF" means something from "to fend FOR" . . .
What it means to "take a rain check," "keep to yourself," and "to appoint (someone)" . . .
What a social secretary is . . .
The best way to use "to sort out" and "to turn down" . . .
How to use phrasal verbs like "to settle in" and "to settle down" (they're not the same!) . . .
And much, much more!