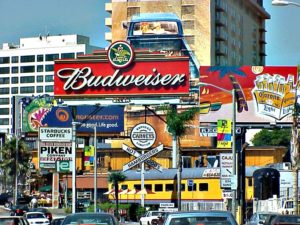 The Sunset Strip is a mile and a half stretch (length) of road located on Sunset Boulevard in the middle of Los Angeles, not too far from Beverly Hills. It is legendary (very famous) for its restaurants, bars, and nightclubs, but also for the celebrities who frequent (visit) the area.
In the early days of Hollywood, "The Strip," as it is called, was a place for outlawed (not legal) forms of entertainment. Gambling (playing games of chance for money) was illegal in the city of Los Angeles and The Strip was located just outside of Los Angeles city limits. This meant that people who wanted to gamble simply needed to go to The Strip. (Today The Strip is part of the City of West Hollywood.)
In the 1920s, during the period of Prohibition (law which made the making and selling of alcohol), alcohol was served secretly in speakeasies (nightclubs serving alcohol when it was illegal to do so). During the 1920s, even more casinos (gambling businesses) and nightclubs (businesses that serve alcohol, with music and dancing for entertainment) started moving to The Strip, attracting people who worked in the entertainment industry (people who work in television, films, music, and other forms of entertainment).
In the 1930s and 1940s, The Strip developed a reputation (became known to other people) as a playground (place for entertainment) for the rich and famous. People who were important in the world of entertainment, such as famous actors, often visited The Strip. Even famous gangsters (people who work for organized groups of criminals) like Bugsy Siegel owned nightclubs and restaurants in the area.
In the 1960s, however, The Strip began to lose its appeal (become less attractive) to people in the movie industry, but remained popular among tourists and locals (people living in the area).
But in the 1970s, during the rise of the counterculture (a subculture whose values and norms were different from the normal, mainstream values), The Strip became popular again, especially with famous rock bands like Led Zeppelin, who played at well-known Sunset clubs.
Today, The Strip continues to be a hangout (place where someone visits often) for young celebrities and other people looking for entertainment. For instance, you can rub elbows (socialize) with celebrities staying at the famous Chateau Marmont (see "Culture Note," Daily English 1162) or see your favorite rock groups at the legendary (famous) venues (places for events or entertainment) The Viper Room, Troubadour, or the Roxy Theater.
~ ESLPod Team
Photo Credit: From Wikipedia
* This post was adapted from "What Insiders Know" from Cultural English 484. To see the rest of the Learning Guide, including a Glossary, Sample Sentences, Comprehension Questions, a Complete Transcript of the entire lesson and more, become a Select English Member.