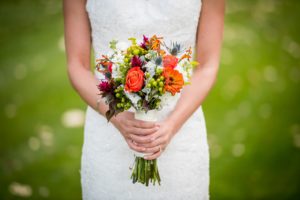 June is here and weddings are in the air (all around us). June is the most popular month for Americans to get married. The second most popular month is October.
December is the most common month to get engaged (promised to marry), according to a 2014 study by the popular wedding website, The Knot. (The name "The Knot" comes from the popular expression "to tie the knot" meaning to get married.)
There are many traditions in American weddings. One of them is related to what the bride (woman getting married) will wear on her wedding day. This saying – "Something old, something new, something borrowed, something blue" – tells the bride that she must wear these four things if she wants to have good luck for her wedding and in her marriage.
What is the meaning behind each of these four things?
"Something old" – This shows a bride's connection to her past and her relationship to tradition or the old way of doing things. If a bride wears something old, the marriage will have longevity, or will last a long time.
"Something new" – This shows hope for a good future. If a bride wears something new, the marriage will be happy, and be filled with joy or happiness.
"Something borrowed" – This usually comes from another woman who is already happily married. The idea is that the borrowed item will give the new marriage some of the good luck and happiness that the married couple already has.
"Something blue" – This represents love and fidelity (faithfulness and loyalty). It's not clear why the color blue represents this ideal (principle). There are different theories. Some say blue was worn as a sign of faithfulness by Jewish brides, and the tradition continued from there, since the color blue was later associated by Christians with the Virgin Mary. Others attribute it to a custom related to preventing "evil spirits" from affecting the bride.
Perhaps it was chosen simple because the word "blue" rhymes with the word "new" in this catchy (easy to remember) little rhyme (short poem with words at the end of sentences having a similar sound)!
~ ESLPod Team
* This post was adapted from "What Insiders Know" from Cultural English 61. To see the rest of the Learning Guide, including a Glossary, Sample Sentences, Comprehension Questions, a Complete Transcript of the entire lesson and more, become a Select English Member.