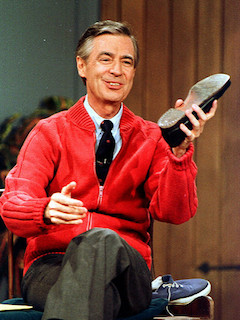 What should you do when the news is scary (makes you afraid)? Fred Rogers' mom told him that whenever there is a catastrophe (terrible event), he should "look for the helpers. You will always find people who are helping."
Many Americans know Fred Rogers from Mr. Rogers' Neighborhood, a children's television program that debuted (began) about 50 years ago, just a short time before Sesame Street, on PBS, the Public Broadcasting System.
No one who saw Mr. Rogers' Neighborhood will ever forget him walking through his door at the beginning of the program singing:
It's a beautiful day in this neighborhood,
A beautiful day for a neighbor.
Would you be mine? …
Please won't you be my neighbor?
Fred Rogers wasn't the kind of person you'd expect to find on television. He was a simple, kindly man. And he dressed that way, too, in a cardigan sweater (sweater with a zipper) and blue sneakers (casual shoes). And that's the kind of person he was. In the words of Anthony Breznican, a young American writer, "Fred Rogers was the real thing."
Mr. Roger's photo and his mother's advice recently popped up (appeared) in a number of places on the Internet after some days of bad news. Breznican saw the photo and tweeted (wrote on Twitter) the story of his personal experience with Mr. Rogers.
Breznican wrote* that "as I got older, I lost touch with (forgot about) the show, which kept running through 2001. But in college, one day, I rediscovered it. I was having a hard time. It was easy to feel hopeless. Walking out of the dorm (apartment building for students), I heard familiar music: 'Won't you be my neighbor…'
"The TV was playing in an empty common (for anyone to use) room. Mr. Rogers was there, asking me what I should do with the mad (anger, upset) I feel. His show felt like a cool hand on a hot head. I left feeling better.
"Days later, at work, I got into the elevator. There, in the elevator, was Mr. Rogers. I stepped in, he nodded (moved his head up and down) at me, and I nodded at him."
When the elevator doors opened again, Breznican turned and said, "'Mr. Rogers, I don't mean to bother you. But I wanted to say thanks.'
"He smiled, 'Did you grow up as one of my neighbors?' I felt like crying. Yeah. I was.
"Rogers opened his arms for a hug. 'It's good to see you again neighbor.'
"As we walked away, I told him that I'd stumbled on (found accidentally) the show again recently, when I really needed it.
"So I just said, 'Thanks for that.' Mr. Rogers nodded. He paused. He sat down and invited me to join him.
"This is what made Mr. Rogers different. No one else would've done this. He goes (said), 'Do you want to tell me what was upsetting you?'
"So I sat. I told him my grandfather had just died. He was one of the few good things I had. I felt adrift (confused). Brokenhearted (very sad).
"Pretty soon he was telling me about his grandfather. He still wished the old man was here. 'You'll never stop missing the people you love,' Mr. Rogers said. 'Those things never go away.'
"Finally, I said thank you. And apologized if I made him late for an appointment.
Mr. Rogers said, "Sometimes you're right where you need to be."
When Mr. Rogers died in 2003, Breznican says he sat at his computer with tears in his eyes. "But I wasn't crying over the death of a celebrity. I was mourning (feeling sad) the loss of a neighbor."
You can find Breznican's complete story on the Entertainment Weekly website, along with some Mr. Rogers videos.
* Most of this story is told the way Breznican wrote it on Twitter; I have shortened it and changed some of the words to make it a little easier to read.
~ Warren Ediger – ESL coach/tutor and creator of the Successful English website.
Photo from Galaxy fm used under Creative Commons license.