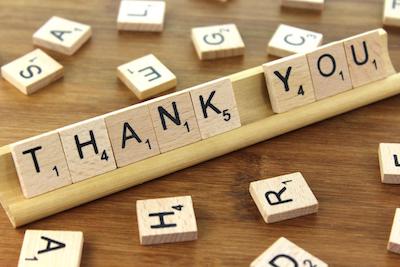 Several years ago, saying "thank you" got Chantel Jennings a job.
Jennings, a student at an American university, was studying in Spain when she received an award that included $500 to use any way she wanted. She used it to pay for a one-week trip to Ireland.
When she returned to Spain, she sat down and wrote a thank you note to Betsy Carter, the writer and journalist (reporter) who had created the award. At the end of her note she wrote, "If you have a chance to talk, I'd love to."
She was surprised a short time later by an email from Carter that encouraged her to call when Jennings returned to the U.S. The two women met and talked, and when Carter discovered that Jennings was a sports writer, she said "You should really come to New York to meet my husband." Jennings went to New York, met Carter's husband, an executive at ESPN (a TV sports network), and was given a writing job at ESPN.
When Jennings asked Carter why she was being so nice to her, Carter told her that she had been giving the award for 20 years and that Jennings had been the first person to write a thank you card. She continued, "Journalism – especially sports journalism – needs more people who write thank you notes. I want you in this business."
Not too long ago, after more than six years, Jennings lost that job and said "thank you" again.
ESPN recently laid off (let go from their jobs) about 100 people to lower their operating costs. Jennings was one of the people who lost their jobs.
Before she left, Jennings wrote: "I'm excited for this next chapter of my life. Don't get me wrong. This hurts. A lot. But I am profoundly (very, extremely) thankful for the last six and a half years at ESPN and whatever comes next will be built on the foundation (a base, something to build on) I laid there."
Reading Jennings' story reminded me of a letter written by C.S. Lewis, who wrote The Lion, the Witch and the Wardrobe and the other Chronicles (stories) of Narnia. In it he wrote (in my words): We should be thankful no matter what happens. If something good happens, we should be thankful because it is good. On the other hand, if something bad happens, we should be thankful because it teaches us to be patient (able to wait calmly for a long time or accept difficulties), to be humble (not thinking that we are more important than other people), and to recognize what's really important in our lives and what isn't.
I think Chantel Jennings would agree.
* fits means that it's always appropriate.
~ Warren Ediger – ESL tutor/coach and creator of the Successful English website.
Story credit: A quick thanks as I go by Chantel Jennings
Photo used under Creative Commons license.