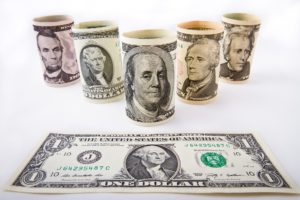 Let's talk about money, lots and lots of money.
Currently, the United States prints its bills (paper money) in seven denominations (amounts):  $1, $2, $5, $10, $20, $50, and $100. There was a time, however, when higher denominations were printed for specific kinds of transactions (actions related to buying and selling).
In 1861, the U.S. government issued interest-bearing notes (money used as a loan between a lender and a borrower) in four different denominations of $500, $1,000, $5,000 and $10,000. In 1878, they were released as United States notes (an older term for paper money).
These notes were actually physically larger in size than our current bills (it wasn't until 1929 that paper money were produced in today's size). The larger denominations were meant to be (were intended to be; were designed to be) used by banks and the U.S. government for large transactions.
However, people involved in unlawful (against the law) activities such as drug trafficking (selling and buying large amounts of illegal drugs) and money laundering (hiding the source of illegally-made money) often used these bills as well. In fact, one report a few years ago found that up to 90% of American currency had trace (very small) amounts of cocaine on them!
The use of these bills for illegal activities was one of the main reasons the government decided to stop producing them. They were last printed on December 27, 1945, and were officially discontinued (stopped being used) on July 4, 1969.
Most of the bills started to disappear, and only private collectors (people who buy valuable things for their own enjoyment or as an investment) were successful in preserving them (keeping them in their original condition).
One of those private collectors was Benny Binion, owner of Binion's Horseshoe Casino (place for entertainment where people play games of chance in hopes of winning money) in Las Vegas. Binion preserved 100 of the old $10,000 bills, and beginning in the early 1960s displayed them for many years in a clear case (box for display). Tourists would often make a special trip just to see them.
Unfortunately, you can no longer see this "million dollar display" at the casino, since it was sold to other collectors. But you can easily lose a million dollars in Las Vegas if you try hard enough!
~ ESLPod Team
* This post was adapted from "What Insiders Know" from Cultural English 469. To see the rest of the Learning Guide, including a Glossary, Sample Sentences, Comprehension Questions, a Complete Transcript of the entire lesson and more, become a Select English Member.