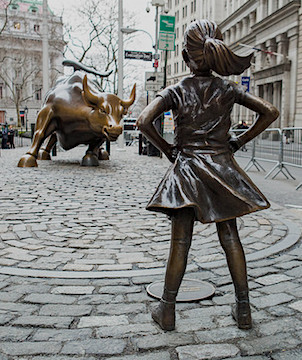 Monday, October 19, 1987, was not a good day.
On that day, called Black Monday, the value (amount of money something is worth) of stock markets around the world dropped very quickly. A stock market is a place for people to buy and sell shares of stock – small parts of a company. The idea is to buy the shares, hold them for a while, then sell them for more than you paid when you need some money. Black Monday began in Hong Kong, then spread to Europe and the U.S.
The U.S. stock market, often called Wall Street for a street in New York's financial district (area), lost about 25% of its value that day. Many people panicked (became extremely frightened), but by the end of the year, the stock market's value was greater than it had been at the beginning of the year.
Arturo Di Modica, an artist from Sicily, responded to Black Monday in an unusual way: he made a sculpture (statue) of a bull (a male cow) and placed it in the middle of New York's financial district.
Why a bull? On Wall Street, a bull is a person who thinks the stock market, the shares of a specific company, or even the country's entire economy is going to continue to grow or improve. We'd say that someone like that is "bullish on Apple" or "bullish on America." A person who thinks things are going to get worse is called a bear.
Di Modica, who had become an American citizen, wanted to send a message that he was bullish on Wall Street and on America. His sculpture, named Charging (attacking) Bull, is no ordinary bull. It is large – 11 feet (3.4m) tall, 16 feet (4.9m) long, and weighs 7,100 pounds (3,200 kg). It is strong and full of energy.
Charging Bull became an "instant hit (immediately popular)", according to the New York Times, and one city official said that "people are crazy about the bull." After almost 30 years, many visitors to New York still include it on their must-see lists. Some say it's almost as popular as the Statue of Liberty.
The story might have ended here except for one thing: a second sculpture, of a small girl, appeared a few weeks ago on the morning of International Women's Day. This sculpture, called Fearless Girl, stands in front of Charging Bull and appears to be trying to stare it down (look at someone so long that they feel uncomfortable and turn away). A Wall Street company paid to have her made and is using her to promote one of their products and show support for women in leadership.
Di Modica is insulted and upset. He thinks that Fearless Girl is attacking the bull, and that she changes Charging Bull's message of hope and prosperity (to have enough) into something negative. He wants the city to move her.
The artist who made Fearless Girl disagrees. She said she made sure to keep her soft. She's brave, proud, and strong, yes, but she doesn't want to argue or fight.
For now, Fearless Girl will stay. The city of New York has given her a permit (official permission) to be there for 11 months. We'll have to wait and see what happens after that.
~ Warren Ediger – ESL coach/tutor and creator of Successful English website.
Photo by Anthony Quintano is used under Creative Commons license.