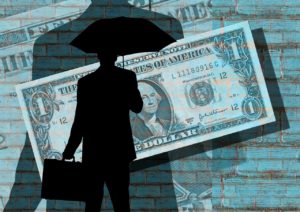 Today is Tax Day in the United States. It's the last day Americans can file (submit) their personal income tax forms to the U.S. government. (Tax Day is normally April 15th, but since the 15th falls on a Saturday this year, the deadline (date something is due) has been moved to the 18th.)
Every American is supposed to pay his or her personal income taxes, but sometimes people hide their money to avoid paying. That's why the U.S. government created tax amnesty programs.
A tax amnesty program is a program that allows taxpayers (people who pay taxes, or who should pay taxes) to admit to having committed tax evasion (the crime of trying to avoid paying taxes) and pay a penalty (punishment, usually money to be paid) that is less than what the penalty normally would be.
For instance, under a tax amnesty program,  a taxpayer may be allowed to disclose (share information about) previously unreported income (money earned or received that was not reported to the government) and pay the taxes owed on it without having to pay interest (a percentage of money owed calculated every month or year based on the amount owed) or fines (money that must be paid as a punishment).
The IRS offers offshore amnesty programs specifically for taxpayers who have hidden money in offshore accounts (bank accounts in other countries). The Offshore Voluntary Disclosure Program was offered in 2009 and 2011, and then as an open-ended (without an ending date; continuing until further notice) program in January 2012. In 2012, the IRS commissioner (head or leader of the agency) announced that the IRS had collected (arranged to received) more than five billion dollars ($5,000,000,000) in back taxes (taxes that should have been paid in the past, but weren't) as a result of voluntary (according to a person's will or wish, without being forced to do something) disclosures (telling others about secret information).
Why do taxpayers voluntarily disclose their offshore holdings (things you own that has value or worth)? Because the penalties they pay for voluntary disclosure are significantly (a lot) less than the penalties they would pay if their wrongdoings (the bad things people have done) are discovered and prosecuted (taken to court and charged with a crime) by the IRS.
So if you have been hiding money from the U.S. government and are afraid of getting caught (having your crime discovered), you can fess up (confess; tell others about your wrongdoing) before the cops (police) get wind of it (learn/hear about it).
~ ESLPod Team
* This post was adapted from the "Culture Note" from Daily English 1124. To see the rest of the Learning Guide, including a Glossary, Sample Sentences, Comprehension Questions, a Complete Transcript of the entire lesson and more, become a Select English Member.