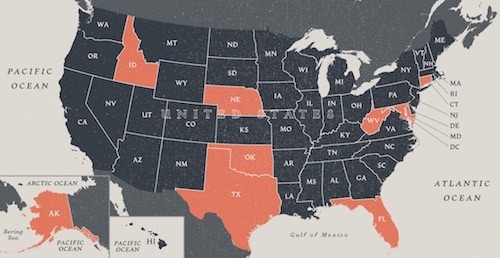 "Stick out" is an interesting little expression.
It describes something that is easy to see, or is noticeable, because it comes out farther than the rest. For example, "He's so tall that he sticks out in a crowd (large group of people)." Or, "His legs stick out when he's working under his car."
If you studied geography in school, you learned about the countries, oceans, rivers, mountains, cities, etc. of the world. And you probably learned about peninsulas, those "almost islands" that stick out into a large body of water. In the U.S., the state of Florida is a good example. Like a large finger, it sticks out of the larger part of the U.S. into the Gulf of Mexico and Atlantic Ocean.
If you had studied geography in the U.S., you might have studied something else that sticks out, called a panhandle (in other countries, they might be called a salient).
The word comes from the kitchen. Pans are what you cook food in. One pan – the frying pan that you might might use to cook eggs and bacon for breakfast – has a long narrow handle to use to pick it up.
In geography, a panhandle is a long narrow piece of land that sticks out from a larger area, like a state, into another. Ten U.S. states have panhandles, and some of them are well known.
The Alaska, Oklahoma, Florida, and Maryland (you need a larger map to see it) panhandles look like what you'd expect – long and narrow handles attached to one side of the state; Nebraska's panhandle is where you'd expect it to be, but it's short and fat. Idaho's looks like a finger pointing up at Canada; the Texas panhandle is also at the top and, like Nebraska's, it's short and fat. West Virginia has two panhandles and Connecticut's, at the bottom of the state, points at (to show with your finger) New York City.
Why talk about panhandles? Robert Reid recently wrote on the National Geographic website that some of the U.S. panhandles are interesting enough that people should think about visiting them. Here are his three favorites:
1. Alaska's panhandle is already a popular place to visit. You can cruise (travel on a boat) among the islands along the panhandle to see snow-covered mountains, glaciers (large sheets of ice), small villages, and bears and other animals. You can visit Sitka, an old historic village or Juneau, Alaska's capital.
2. When you think about Florida's panhandle, think about 200 miles (320 km) of beautiful white-sand beaches along the Gulf of Mexico, sunshine, and . . . tourists.
3. I wrote about Nebraska's sandhills in Where Buffalo Used To Roam. The Nebraska panhandle is mostly sandhills, but they are broken up (interrupted) by 800 foot (~240 m) high rocks that have been carved (cut into shape) by years of wind and rain. Early Americans traveled through this rough but beautiful area on their way to the West.
If you'd like to learn more about America's panhandles, take a few minutes to look at Reid's article on the National Geographic website.
~ Warren Ediger – ESL coach/tutor and creator of the Successful English website.
Map photo from National Geographic.