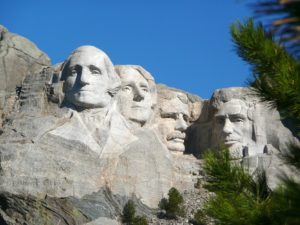 This month, we'll be celebrating President's Day on the 20th of February. Actually, the holiday is officially called "Washington's Birthday" because, well, we're celebrating the first president of the United States, who was born on February 22, 1732. However, most Americans know it informally as President's Day and as a day to remember all presidents, not just our first.
The current president of the United States is our 45th president. Presidents of the United States are often given nicknames, informal names they're known by. So far, President Trump hasn't been given a commonly-used nickname, though there are many people with definite ideas.
A nickname can be a shorter version of the person's real name. Sometimes people give presidents nicknames because of something in their past. Abraham Lincoln was given the nickname "Honest Abe." The story goes that when Abraham Lincoln (1861-1865) was young, he was the manager of a small store. When he saw that a customer had been charged (required to pay) too much money for an item, he closed the store and walked to the customer's house to return the money. He was given the nickname "Honest Abe" because of this and other similar stories.
Theodore Roosevelt (1901-1909) was nicknamed "Teddy." A newspaper started calling him this as a shortened version of Theodore after an incident (occurrence) while hunting (searching for and killing animals for sport or food) for bears (see English Cafe 300). The name became popular, and soon a toy company made a stuffed animal (a soft toy made to look like an animal) in the shape of a bear and called it a "Teddy bear" after Theodore Roosevelt. To this day, we still call similar toys teddy bears.
Ronald Reagan (1981-1989) was a popular actor before he became president. In one of his films, he played a character called "The Gipper" which was based on a real person, an American college football coach (leader of a team). Reagan had many fans when he was an actor. These fans started calling him "The Gipper" because they liked him in that role (character in a film).
As you probably know, two U.S. presidents shared the same last name because they are father and son. George Herbert Walker Bush (1989-1993) was the father of George Walker Bush (2001-2009). Both men were president within a few years of each other. In order to lessen (reduce) the confusion, the older Bush is sometimes called "Papa Bush." The son is often called "Dubya," which is the way Texans and other Southerners pronounce his middle initial (letter representing a  name), "W."
* This post was adapted from "What Insiders Know" from Cultural English 392. To see the rest of the Learning Guide, including a Glossary, Sample Sentences, Comprehension Questions, a Complete Transcript of the entire lesson and more, become a Select English Member.
Image credit: Wikipedia