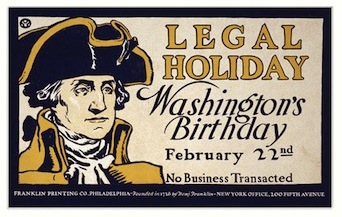 George is George Washington, the first president of the U.S. And the question – What would George do? – is the title of an article written by Louis Jacobson, a reporter for the Tampa Bay (Florida) Times newspaper and Politifact web site.
Several months ago, Jacobson found a copy of a small book – Washington's Rules of Civility (polite behavior) – that was written when George Washington was a teenager. Today we might call the book Rules for Becoming a Good Person.
At that time, it was common for students to copy lists of social and moral (what is good/evil, right/wrong) rules like these. The goal was for students to learn the rules and become good people and citizens and partly, I believe, to improve their handwriting. According to Jacobson, the rules Washington copied come from a French book – Good Manners in Conversation Among Men – written in 1595.
In celebration of our Presidents' Day (the third Monday in February), President Lincoln's birthday (February 12), and President Washington's birthday (February 22), I thought it would be fun to try to rewrite a few of Washington's rules in simple modern English and to share them with you. Some will make you smile. Others, I hope, will make you think. Here they are:
Everything you do should show respect for the people around you.
Don't say anything, either jokingly or seriously, that will hurt another person. Don't laugh at or talk about anyone in a way that lets them know you think they're stupid, even if they are.
When others are nearby, don't sing to yourself with a humming ("mmmmm") sound or drum (tap on the table or floor) with your fingers or feet.
If you cough, sneeze, sigh (breath out with a loud sound when you are tired, bored, etc.), or yawn, do it quietly, not loudly. Don't speak while you're yawning, but put your handkerchief or hand in front of your face and turn to the side.
Don't sleep when others speak, don't sit when others stand, don't speak when you should be quiet, and don't walk when others stop.
Don't act happy when someone has bad luck, even if he or she is your enemy.
When you visit someone who is sick, don't act like you're their doctor, especially if you don't know anything about medicine.
Don't argue with someone who is your superior (someone who has a higher position than you); obey (do what they ask you to do) them and don't try to act more important than you really are.
Don't wear smelly, dirty, or torn clothes; brush them off at least once a day; be careful not to look dirty, not even a little.
If you have any respect for your own reputation (what people think or say about you), spend time with good people; it's better to be alone than to spend time with bad people.
Don't share news if you're not sure it's true.
Don't be curious (wanting to know something) about other people's business and don't try to listen when others are speaking to each other privately.
Don't be so anxious to win an argument that you don't give every person a chance to share their opinion; let the majority decide who is right.
Don't say anything bad about someone who is not present, because that is unjust (not fair or reasonable).
Don't take a second bite of food until you have swallowed the first one; don't take bites that are too big for your mouth.
Don't drink or talk when your mouth is full of food; don't look around while you are drinking.
Don't clean your teeth with the table cloth, napkin, fork, or knife; use a toothpick.
Whatever happens, don't get angry at the table, and if you have a reason to be angry, don't show it; be cheerful, especially if strangers are at the table, because good humor (a pleasant attitude) turns one dish of meat into a feast.
And my favorite:
Work hard to keep that little spark of heavenly fire called conscience (the voice inside that tells you if what you're doing is right or wrong) alive in your heart.
If you'd like to see all of Washington's rules as they were originally written, you can find them here.
~ Warren Ediger – English tutor/coach and creator of Successful English, where you can find clear explanations and practical suggestions for better English.
Photo courtesy of Wikipedia Commons.