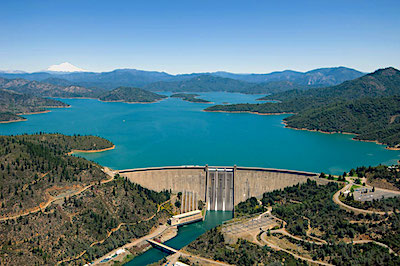 It's either feast or famine.
Feast refers to a large meal, especially one that celebrates something, like a wedding. Famine refers a shortage (too little) of food, often so much so that people suffer or die because they do not have enough to eat.
Today we use the phrase feast or famine as a metaphor to talk about situations when there's either too much of something or too little.
When I wrote about California's drought (a long time with little or no rain) in 2014, it was three years old. It continued for three years more. Our water supply became dangerously low. Most of our reservoirs, large lakes for storing water, were nearly empty. So much of our underground water had been pumped out (purposely removed) that the ground above it dropped (fell down) in some places. The snow in the mountains that provides our water when it melts in spring and early summer didn't come, and when it did, it didn't last long. It was the driest five-year period (length of time) in almost 140 years. It was, you could say, a water famine.
Today, in contrast, we are experiencing a feast of water, almost too much water. Our water year – the date we begin to measure rain and snow each year – begins October 1. Since last October, Los Angeles has received more than 200% – twice as much – of the amount of rain we usually get during the first few months of our water year.
Our reservoirs aren't full yet. But nearly all of them are at or above their average level – the amount of water they usually contain from one year to another for many years. The snowpack (snow that collects on the ground) is deeper than it has been; we'll know how much deeper on April 1, when scientists measure it. One area, near Yosemite National Park, has received 20 to 30 feet (6 to 9 meters) of snow!
What happened? How did five of the driest years in history become one of the wettest? The answer, or at least part of it, is the Pineapple Express.
The atmosphere is the envelope (surrounding layer) of oxygen and other gases around the earth. In the atmosphere above the eastern Pacific Ocean, there's a powerful air mass (large amount of) that often pushes winter rain and snow storms away from California. If it doesn't break up (into pieces) or move, we don't get rain or snow.
This year, this air mass has broken up, moved around, and opened the door for the Pineapple Express to bring rain and snow to California.
What is the Pineapple Express? Think of it as a river in the atmosphere that starts near Hawai'i – that's why we call it the Pineapple Express, since pineapples are grown there. As it travels from Hawaii, it collects water which, when it arrives in California, becomes rain and snow storms that may last for several days, resulting in large amounts of rain and snow. This year the Pineapple Express has been busy.
If you'd like to see a good example of how much rain we've received, visit the KQED Science website, where you can look at satellite photos of three of our reservoirs. You can use your mouse or finger (on a tablet) to move the control back and forth to see how much water there was a year or two ago and how much there is today. I think you'll agree: it looks like we may be moving . . . from famine to feast.
~ Warren Ediger – ESL coach/tutor and creator of the Successful English website.
Photo of Shasta Dam courtesy of Wikipedia Commons.