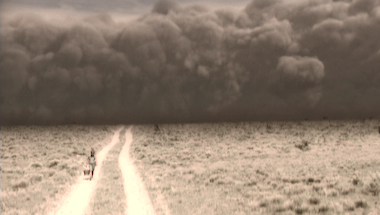 If you had been driving across California's Central Valley (low land between mountains) recently, you would have seen a low-lying (just above the ground) cloud on the horizon (where the sky touches the earth).
The cloud stretched (spread out) as far as you could see on both sides of the road. And as you approached (moved closer to) it, you would have discovered that it was a cloud of dust that was being driven (pushed) by a strong wind. It looked similar to the cloud in the photograph, which was taken during the Dust Bowl of the 1930s.
Experiences like this give evidence (signs that show that something exists) that California is experiencing the worst drought in its history. Droughts, which are periods of time when an area does not receive enough water, are not unusual. Many countries and other areas of the U.S. have experienced them.
Droughts like California's are the result of receiving less rain or snow than usual, often for several years. The annual rainfall (amount of rain received in one year) in California has been much lower than usual for the last three years. Last year, for example, our state capital Sacramento, which usually receives 18.5 inches (470 mm), received only 3.5 inches (88.9 mm). And Los Angeles, which usually receives about 15 inches (385 mm), received only 3.6 inches (91.4 mm).
The situation created by the low rainfall has been made more serious by a small snowpack – the snow that collects in the mountains during the winter. The snowpack is important, because when it melts, the water from it flows into rivers and reservoirs (a lake where water is stored) until it is needed. About one-third (33%) of the water California uses usually comes from the snowpack, but the snowpack at the end of last winter was much smaller – about 85% smaller – than usual.
The drought is a particular problem for farmers in the Central Valley, an important agricultural (farming) area. Farmers there grow tomatoes, almonds, grapes, apricots, asparagus, and other crops (plants used for food) and raise cattle (cows) for milk and meat. A significant (important) part of America's food crops come from the Central Valley. Now, because of the drought, some of the water needed to grow the crops has been cut off (stopped).
So far (until now), farmers and farm workers have been hit the hardest (affected most negatively). Some farmers are concerned that they will not be able to continue to operate their farms.
All Californians (people who live in California) have been asked to voluntarily (because they want to) use 20% less water than usual. And the state recently announced a fine (money you pay for breaking a law) of $500 for wasting water – for example by watering your lawn more than twice a week or washing your sidewalk or driveway. If the drought gets worse, stricter (more difficult) laws may be needed.
While we try to preserve (save) as much water as we can, we wait and hope for more rain and snow next year. And we are hopeful, because meteorologists (weather scientists) believe that we may have an El Niño year (a year with more precipitation (rain and snow) than usual) next year.
~ Warren Ediger – ESL coach/tutor and creator of the Successful English web site, where you will find clear explanations and practical suggestions for better English.
Photo courtesy of History.com.