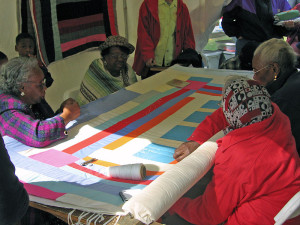 As people get older, one of their biggest concerns is the loss of memory, of not being able to remember things. Most people know that keeping active is important, but not all activities are created equal (are the same; have the same results).
In a recent study about memory, groups of older adults learned new skills, either 1) quilting, a type of sewing activity where different pieces of fabric are sewn together to make a thick blanket called a quilt–see photo); or 2) digital photography, taking photos with a digital (electronic; using a small computer) camera.
The participants took memory tests before and after they learned these new skills, and their results were compared to other groups who had participated in enjoyable social or leisure (free time) activities, such as watching movies, listening to music, and playing easy games, but that did not involve learning new skills.
After three months of doing these activities for over 15 hours a week, the group that learned digital photography made the most improvement in the memory tests, perhaps because it was the more difficult of the new skills. It not only involved learning to use a digital camera, but also involved learning the photography software Photoshop and, for some, using a computer, since some of the participants had never used a computer before.
The psychologists (researchers studying the mind) who conducted the study believe that learning new skills helps to strengthen the connections in the brain. Learning new skills is better, they believe, than the games and computer programs marketed (sold) to older adults these days that tout (say is a benefit) improvement in memory.  They say that those commercial (sold to customers) games only improve short-term (recent) memory to a small degree (a little bit), but learning new skills — such as learning a new hobby — helps to strengthen connections in larger portions (areas; sections) of the brain.
In the past 30 years or so, there have been many media (news) reports about the benefits of keeping active as we get older. Physical exercise is important and so, it seems, is exercising the mind. Picking activities that challenge (present problems and difficulties to solve) the mind garners (gets) the greatest benefits.
If you're an older adult, do you have hobbies that challenge your mind? If you're younger, what new skills would you like to learn when you retire and have more time?
– Lucy
Photo Credit:  Gee's Bend quilting bee from Wikipedia