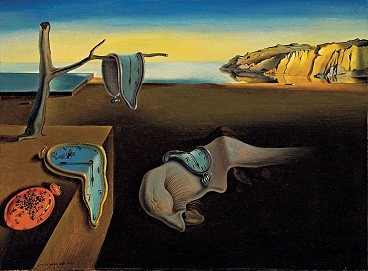 . . . is surreal.
In the early 1800s, Noah Webster wrote the first American dictionary to show how American English is different than British English. His dictionary, now called Merriam-Webster's Dictionary, is probably the most-used American English dictionary. Most of us grew up on it (used it in school from the time we were young).
Today Merriam-Webster tracks (records) the words that people look up on their website and apps. And at the end of the year, they identify the words of the year, words that were looked up (searched for) more than others. There are two kinds: first, what we might call everyday words – words that are looked up frequently all year, every year.
The second kind are words that people looked up because of events in the news. After something happens – in politics, popular culture (music, television, movies, etc.), or sports – the number of times people look up these words spikes (goes up suddenly). A short time later, the number drops. When we look at these words, they often tell us what people think or how they feel about those events. Surreal belongs to this second group.
Surreal describes something that is very strange, unreal, or difficult to understand, like something from a dream. It comes from the world of art. Surreal art – like the photo of Salvador Dali's Persistence of Time – shows usual objects in unusual ways. Watches are usual. Hanging watches over tree branches and other objects are unusual. Common synonyms for surreal include unbelievable, fantastic (from fantasy; imagined but not real), unreal, and unusual.
Surreal spiked several times in 2016. The first was in March after the terror attack in Brussels, Belgium. It appeared twice in July – after the coup attempt (attempt to take control of the government) in Turkey and after the terror attack in Nice, France. The last and largest spike came after the U.S. presidential election. All of these were events that people had trouble understanding, describing, and thinking about.
Some other words had significant spikes during 2016. The musician Prince's death last year sent many people to the dictionary to look up icon – someone many people know about and consider an important person. The Revenant, the movie that Leonardo DiCapro starred in and won an Academy Award for, caused many to look up the word revenant – a ghost or someone who has come back from being dead.
Did any events from 2016 send you to the dictionary? What did you look up?
~ Warren Ediger – ESL tutor/coach and creator of the Successful English website.
This post was based on information from the Merriam-Webster website.
Photo of Persistence of Memory courtesy of Wikipedia Commons.