War has many unintended consequences (things that happen that no one intended).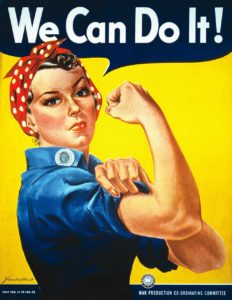 World War II shrunk (made smaller) the skirt.
During World War II, the United States experienced a major change in gender roles (views and responsibilities of men and women). According to the National Archives, every one in three American men left home to serve in the military between 1941 and 1945, and women worked in civilian (not related to the military) jobs out of the home.
These women not only continued to manage their households (homes and the people who live there), but they also worked in factories (large buildings used for making many products for sale), laboratories (where scientific experiments are done), power plants (where electricity and fuel are stored and/or managed), government organizations, and military organizations. The war completely changed the responsibility of women in the workforce (entire population of workers) during these years—and this transformed (completely changed) how they dressed.
Because women were doing more tasks requiring labor (physical activity) like driving trucks, flying military aircraft, and working in shipyards (where ships and boats are built), safety and practicality (suitability for the situation) took precedence (became more important) over glamour (looking attractive) and femininity (being like a woman).
Working women put away their high-heeled shoes and silk (a soft, expensive fabric) dresses and wore cotton shirts and blue jeans instead. They also began pinning (using small, long metal hair clips to fasten) their hair back to avoid getting it caught in the machines used on the job.
During the war, certain materials were reserved (kept for use) for military purposes. And to conserve (use less of) fabric, clothes makers began designing shorter skirts and slimmer (more narrow; less wide) silhouettes (shapes of clothing). Before the war, most women wore panty hose or nylons, a very strong but thin material like a very long sock covering the legs, made from the material also called "nylon." Because of this, women went barelegged (with no covering over the legs).
By the end of the war, over six million American women had joined the workforce, and nearly one out of every four married women worked outside the home. Although many were replaced by men once the men returned from war, working out of the home changed people's perceptions (views) of what women could do.
So if you prefer wearing slim and short skirts with bare legs, you have World War II to thank.
~ Lucy