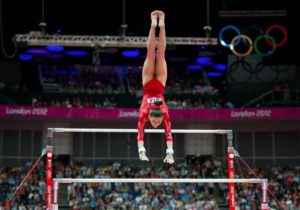 This week much of the world is, like I am, watching the Olympic games in Rio. It seems like every Olympics has its own problems and scandals (doing something wrong that causes the public to have strong negative reaction). But somehow, when you actually start watching the athletes compete, you forget about all of that and just enjoy the magic of our fellow (similar to us) human beings doing some really extraordinary things.
My favorite sport to watch is gymnastics, perhaps because my father was a gymnast (a person who competes in gymnastics) when he was in high school and so he loved watching those events on television. Gymnastics involves lots of different activities, including swinging on the uneven bars (see photo) and moving and jumping on top of a balance beam (a long piece of narrow wood about four feet (125 cm) off the ground).
If you need a reminder of some of the English vocabulary used to describe the Olympics, check out (take a look at) our episode on that topic from a few years ago. (And if you want to learn a little Portuguese from our very own webmaster, Adriano Galeno, take a look at his Brazilian PodClass.)
Lucy described some of the more popular sports during the 2014 Sochi Games, so I thought I would talk a bit about the two "new" sports for this year's games, sports that are actually returning to the Olympic games after a long absence (time away from something).
Golf is returning to the Olympics after being dropped (removed) after the 1904 Games in St. Louis, Missouri. We spoke about golf briefly here, but as you probably know, it is a game that uses long sticks called clubs that are used to hit a small ball (called, logically, a "golf ball"). The ball is placed on a tee, a small piece of plastic or wood that holds the ball up in the air, a few inches from the ground. The object (purpose) of the game is to hit the small balls into a hole that is located several yards from where you begin hitting the ball.
The other sport returning this year after many decades (a period of 10 years) is rugby. Rugby is not popular in the United States, and I would guess that most Americans have never even seen a complete game of rugby (that would include me). From what I understand (which is very little), it involves a bunch of men and women (but not together) running around a field with a ball that looks like an American football. From the photos I've seen, it seems like there is a lot of hugging (people putting their arms around each other), but I could be wrong about that part. Technically, there are different kinds of rugby: the one being played in this Olympics is called "rugby sevens" since there are seven players on each team who play for periods of seven minutes. If you want to know more, don't bother asking the average American, who I'm sure doesn't know any more than I do.
What are your favorite sports to watch in the Summer Olympics?
~Jeff
Image credit: Pinterest