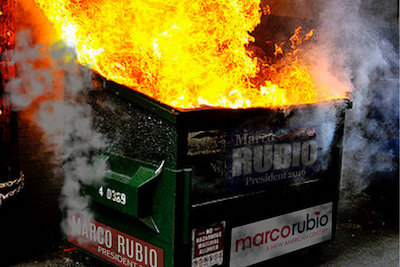 In the U.S., our national elections are less than 100 days away. For the next three months we'll read and hear a lot of what some call "politalk" – political talk – in news stories, TV ads, speeches, and interviews.
We've heard a lot of this before, but occasionally some words become part of the news. Here, for a little election year fun, are a few interesting and unusual political words that people have been talking about.
Let me begin with a handful of (a few) ordinary, everyday political terms. A candidate is someone who wants to become a mayor, governor, member of Congress, president, or something else. Candidates belong to parties – groups of people with similar ideas about what to think and what to do. Candidates and parties campaign – say and do things to try to get people to vote for them. You can use campaign as a verb and a noun.
"Dumpster fire" is a meme – a word, idea, fashion style, etc., that quickly spreads from person to person, often through the Internet. It appeared a few years ago in stories about sports and politics and has already been added to the Oxford English Dictionary.
A dumpster – see the photo – is a large metal container used for trash. "Dumpster fire" describes a very confusing situation, especially one that is handled (managed) very badly. We might say of a sports team that "their season began as a dumpster fire and never got any better." More than once this year, people have said about one or two candidates: "His campaign is a dumpster fire!"
In the U.S., Supreme Court justices (judges) don't usually say anything about politics. This year one did, and many were upset by it. One of those people said that the justice's comments went "beyond the pale."
"Beyond the pale" is an old idiom. Many years ago, pale was used to refer to a wooden stake, or pole, used to hold up grape plants. It came to be used as a fence of pointed stakes and, from that, to refer to a boundary, a line that marks the edge of a state or country or an area of land that belongs to someone.
The person who said the justice's comments went "beyond the pale" meant that the comments went over, or beyond, the boundary of what was acceptable. In other word, a Supreme Court justice should not do something like that.
A short time ago, a well-known American businessman got very angry with a candidate and called him a "jagoff," but almost no one knew what he meant. Those who did probably live in or come from western Pennsylvania, especially around the city of Pittsburgh. It is local slang (informal language used by a small group of people) that describes a person who is stupid and inept (not good at doing anything) and it's been used in that area for many years. No one is sure how it got started.
Vice President Joe Biden recently polished off (made clean or shiny; prepared for use) one of his favorites descriptions and called a statement (something said) by one of the candidates "a bunch of malarky!" Malarky is a 100-year-old word that means lies (untruths) and exaggerations (statements that make something seem better, larger than it really is) or nonsense (statements that aren't true or that seem very stupid). Our vice president is one of the few people who still use it.
Are there any interesting or unusual words used during political campaigns where you live? Or have you seen or heard any other English political words that you're curious about?
A final note, a reminder: this blog post has been about political language, not politics. It'd be kind of cool if the comments were, too.
~ Warren Ediger – creator of the Successful English website: I help business and professional people improve their English and help students prepare to succeed in an English academic environment.
Photo by Goat4421 used under Creative Commons license.