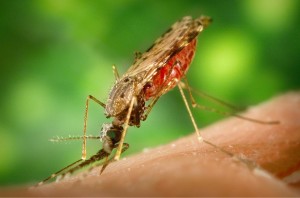 Who doesn't like summer in California? Well, me.
That's not entirely (completely) true. I love the the warm temperatures and the sunshine. But there is one element (part; factor) of summer I dread (don't look forward to): mosquitoes.
Mosquitoes are those little insects that fly around, bite people, and suck (pull into the mouth) their blood. If there is a mosquito within 50 miles of me, it will find me. It will then feast (eat a lot) on me and bring a few friends for the buffet (meal where you can eat as much as you like).
Scientists say that many things attract (are appealing to) mosquitoes. Mosquitoes may be attracted to certain blood types, as one study found. (Your blood type is either O, A, B, or AB. It can be neutral or + (positive) or – (negative).) In the study, people with type O blood were bitten nearly twice as often as people with type A blood. I'm AB+, so I'm not sure where I stand (what my position or status is).
Wearing dark clothing can attract mosquitoes who use sight (the sense that allows you to see) as well as smell to locate victims (people who are harmed).
Mosquitoes can also detect chemicals and gases (substances in the air; not a liquid or a solid) that come off of people's bodies, such as carbon dioxide (the gas that people breathe out) and lactic acid (a chemical that is released from muscles when we exercise). Even drinking beer can attract mosquitoes to your skin.
Mosquitoes have plagued (bothered) me all my life. To add insult to injury (to make things even worse), I have Skeeter Syndrome, which is an allergic reaction to mosquito bites. ("Skeeter" is a nickname for mosquitoes in some parts of the United States.) Instead of the small itchy (with a strong feeling of wanting to scratch) bump (small, round, raised area) that most people get, I get large welts (red, swollen areas) that itch for a long, long time.
Even better, I discovered a couple of years ago that fleas like me, too, and I'm allergic to their bites as well. Fleas are those very small insects that like dogs.
Finally, I've come to terms with it (have accepted a difficult truth): I am delicious. I hope no vampires are reading this blog post.
~ Lucy