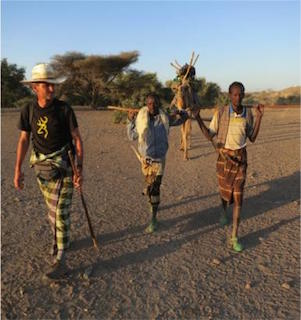 Paul Salopek is walking around the world.
He started, in 2013, in central Africa where scientists believe they have found the earliest evidence of humans (people) on Earth. He will finish, most likely (probably) sometime after 2020, at the tip (end) of Chile in South America.
Salopek's journey will follow the path scientists believe that humankind (human beings as a group) followed as they migrated (went somewhere else to live) from Africa and spread around the world. From Africa his trip will take him north through the Middle East; across central Asia, India, and China; across the Bering Strait to Alaska; and then down across North and South America to Tierra del Fuego, Chile. A few weeks ago he was in Azerbaijan, more than a year later than he had planned.
Paul Salopek is an American journalist (reporter). His project is called the Out of Eden Walk. Eden is the name of the place in the Bible where humankind first lived; it is sometimes used in a general way as "where humankind began." Why is he doing this?
It's about "storytelling," Salopek says. "It's about communicating in the 21st century, slowing people down." He says that he's interested in finding time in today's world to tell stories, "stories with beginnings, middles, and ends. So if I slow down stories to three miles [5 km] per hour [walking speed], let's see if people follow along."
He believes it's important to slow down so we can absorb (take in) more of what is happening around us. "I don't think we need more information," he says. "I think we need more meaning (understanding of what's important)."
As he walks, Salopek meets people who live along his path. Some walk with him. Some give him lunch or dinner, and others invite him to spend the night. He rarely knows, as he begins each morning, what will happen before his day ends.
He tells the story of staying with 72-year-old Ziaudoin and his wife in Azerbaijan. They had married as teenagers and lived a "tough (difficult) farm life, on the edge, really, of civilization." They were curious when they first met Salopek, then surprised when he told them that he had hiked (walked along a path) from Africa. They laughed and and told him, "You have got to be crazy."
Ziaudoin explained through an interpreter (someone who changes words into a different language), "I don't think he is crazy. I actually thought he was quite enlightened (shows good understanding), because they actually want to walk across the world to see what's out there. You might not notice a place, but when you walk by on foot, you see it, and appreciate it for what it actually is."
Salopek says that his "reporting method is observational, quietly watching [and listening to] the world unfold (develop, happen) around me, getting into people's lives. And for them to admit me in their lives, I have to be quiet. I have to listen. If this becomes too much of a spectacle (big show), I can't work."
If you want to follow Salopek's journey, you can do so on the National Geographic and PBS Newshour websites. Some information in this post came from PBS Newshour interviews with Salopek.
~ Warren Ediger – ESL tutor/coach and creator of the Successful English website.
Photo courtesy of pulitzercenter.org.