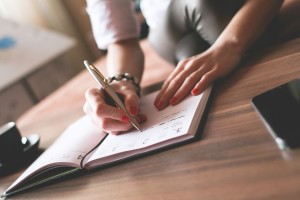 You may not have heard the term "pleonasm" before, but we've all encountered (seen or heard) many pleonasms in our lives.
Pleonasms — pronounced "PLEE – e – naz – ums" — are terms that use more words than are necessary to convey or give a clear meaning. They are sometimes used for emphasis, or to give more or extra attention to something, but more often than not (usually), they are not needed and serve no purpose (have no reason for being there).
People who teach writing often say that to improve a piece of writing, it's a good idea to remove redundancies (two or more things that have the same function), including pleonasms.
Here are a few examples of commonly-used pleonasms. They aren't incorrect, but just unnecessary.
– "I asked Jeff what his future plans are for his neighbor's cats."
Explanation: "Plans" are decisions we make about what to do in the future, so including "future" in this sentence is redundant.
– "The little girl's father told her not to speak to complete strangers."
Explanation: "Strangers" are people we do not know, so "complete" here — meaning absolute or total — is not necessary. Someone you know even a little would not be called a stranger, but most likely an "acquaintance."
– "If current trends continue, we will get more snow this year than any other year in history."
Explanation: A "trend" describes the general direction that something is occurring or developing right now, so "current" — meaning what exists now — is superfluous (unnecessary).
It may be easy for us to spot (identify) pleonasms in the sentences above, but Americans use them all the time in speech and in writing. It probably isn't possible to eliminate them all in American English even if we wanted to, since they are so common that many have become a part of how we naturally communicate.
However, a comedian (person who tells jokes to make people laugh) named George Carlin wrote a 2004 book based on his funny observations (things he noticed) about his fellow Americans (Americans like him). Carlin was famous for pointing out (giving attention to) funny things American say, and in this book, he talked about the many pleonasms found in everyday English.
Here's a short excerpt (section taken from a longer text) from his book. See if you can spot the pleonasms. I've included the same paragraph at the bottom of this blog post with the pleonasms in red, but try to find them yourself before looking.
~~~~~
"I needed a new beginning, so I decided to pay a social visit to a personal friend with whom I share the same mutual objectives…The end result was an unexpected surprise. When I reiterated again to her the fact that I needed a fresh start, she said I was exactly right; and, as an added plus, she came up with a final solution that was absolutely perfect."
~~~~~
[Answers below. Try not to peek (look before you're finished).]
.
.
.
.
.
.
.
.
.
.
~~~~~
"I needed a (new beginning)*, so I decided to pay a (social) visit to a (personal) friend with whom I share the same (mutual) objectives…The (end) result was (an unexpected) a surprise. When I reiterated (again) to her the fact that I needed a fresh start, she said I was (exactly) right; and, as (an added) a plus, she came up with a (final) solution that was (absolutely) perfect."
* "new beginning": All "beginnings" are "new," so it's better to say "new job, life, goal, focus," or something else specific, although "new beginning" is commonly used.
~~~~~
The paragraph above would be simpler and clearer if we eliminated the words in parentheses ( ). Are any of them unclear or confusing? Did you find them all? You get bonus (extra) points for finding the ones in the title of this post.
~ Lucy