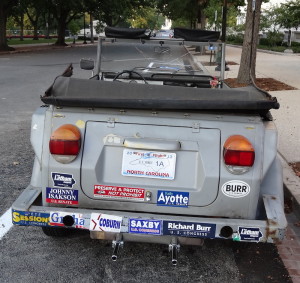 It's politics time in the U.S. And that usually means cars with bumper stickers (small signs with messages) like those in the photo.
Political bumper stickers first appeared in 1952. That's when former World War II general Dwight D. Eisenhower was the Republican candidate (someone competing for public office) for president and former Illinois governor Adlai Stevenson the Democratic candidate.
Bumper stickers probably don't convince (make someone believe or do something) people to vote for one candidate or the other. But they help create awareness (knowledge about something). And they allow people to express (show) their support for candidates and ideas.
Most political bumper stickers are simple. Some have only the candidate's name. Others say "Vote for Obama" or "Romney for President".
Some bumper stickers – like "Democracy is not a spectator (for watching) sport", "Ignore (don't pay attention to) your rights (freedoms) and they'll go away", and "If you don't vote, don't complain" – remind people that voting is important.
Bumper stickers even appear after elections. Someone whose party (Republicans or Democrats) won may put "I voted Republican" or "I voted for Obama" on their car. If their party or candidate didn't win, they may put something like "Next time … think before you vote!" or "Don't blame me. I voted for the other guy."
Since bumper stickers are so small, it's difficult to say much about important ideas. Occasionally, however, someone tries. This one – "Taxed Enough Already" – accomplishes two things. First, it complains about too many taxes. Second, it identifies with (shows relationship to) the Tea Party, a group of conservative (usually, someone who doesn't like change) Republicans who take their name from the time early American patriots (someone who loves their country and is willing to defend it) threw British tea into Boston Harbor to protest taxes. In history books it's called the "Boston Tea Party."
Some of the best, in my opinion, are those that mix humor and political talk. "Confuse a conservative. Use logic and facts" does that. So does "I'd vote Republican, but I'm allergic to (get sick if you eat or touch something) nuts (food/crazy people)."
One driver, who may not think much of (like) politicians, had a bumper sticker that used a popular line from American writer and humorist (someone who tells funny stories) Mark Twain – "Politicians, like diapers (soft cloths put on babies to keep them dry and clean), should be changed often. And for the same reason." Another, apparently from a Republican who doesn't like the choices he has, says "Republicans for Voldemort." Voldemort, as you may remember, is known as the Dark Lord in the Harry Potter books and is Harry's enemy (someone who wants to hurt you).
The number of bumper stickers seems to have declined (gotten smaller), probably because of Twitter, Facebook, and other social media. I hope they never disappear; if they did, what would I have to read while waiting for the stoplight to turn green?
~ Warren Ediger – ESL coach and tutor and creator of the Successful English website.
Photo courtesy of Wikipedia Commons.