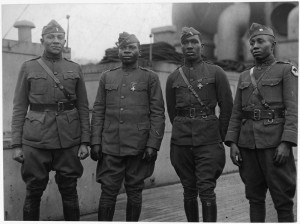 Today is a public holiday in the United States called Veterans Day. A veteran is someone who was once in his or her country's military (army, navy, etc.). Today is also a day of remembrance in many countries, since it is the anniversary of the end of World War I, what was once called the "war to end all wars" (sadly, of course, it didn't).
But for a short period in American history, Americans didn't celebrate this day on November 11th. Here's the story why.
World War I officially (formally; legally) ended on June 28, 1919, in the Palace of Versailles outside the town of Versailles, France. However, fighting actually ceased (stopped) seven months earlier when an armistice (temporary cessation (end) of hostilities (fighting)) between the Allied nations and Germany went into effect (began) on the eleventh hour of the eleventh day of the eleventh month – that is, at 11:00 AM on November 11, 1918.
In November 1919, President Wilson proclaimed (officially announced; determined that) November 11 as the first commemoration (remembrance; celebration) of Armistice Day. Yet it wasn't until nearly 20 years later, in 1938, that the 11th of November was made a federal (national) holiday.
At first, November 11th was a day to honor veterans of World War I. But in 1954, after World War II,  "Armistice Day" was changed to "Veterans Day" to remember all of those who served in the the United States military, both during war and in peacetime (when a country is not involved in a war).
For a few years during the 1970s, however, Veterans Day was not celebrated on November 11th. That's because the federal government changed the law in the late 1960s to "move" certain holidays from the dates they were traditionally celebrated to a Monday, in order to create a "three-day weekend" for government workers and others who had the day off (didn't have to work). The other holidays moved were Washington's Birthday, Memorial Day, and Columbus Day.
Many people, including millions of veterans, didn't like the fact that the government decided to move Veterans Day, since it is so obviously connected to the date of November 11th. So another law was passed a few years later that changed Veterans Day back to its original date, and that's the date we use today.  
The other holidays that were moved by the 1960s law, however, are still celebrated on a Monday, even though two of them are also connected to specific historical events: Washington was born on February 22nd, which is only occasionally the third Monday in February, the day we celebrate it now; and Columbus Day is in honor of the day Columbus arrived in the "New World," October 12th, which does not normally fall on (take place on the calendar) the second Monday of October. It seems Americans prefer their three-day weekends over historical accuracy in these cases.
Is this day celebrated in your country in honor of veterans? If not, do you have another day that you celebrate those who served your country in the military? Have certain public holidays connected to specific dates been "moved" to create three-day weekends?
~Jeff
P.S. I've adapted (taken and changed) part of this brief history from a U.S. government website.
Image credit: Officers of the American Expeditionary Force in World War I (Wikipedia)