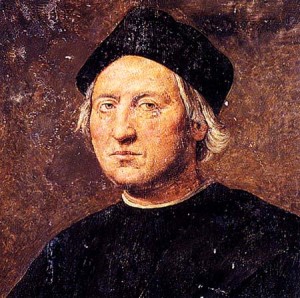 Today we celebrate in the United States Columbus Day, remembering the day that the Italian explorer (someone who looks for "new" or undiscovered places) Christopher Columbus first "discovered" the Americas. Of course, when we say "discover," we mean for the Europeans, since there were already millions of people living here before Columbus's ships arrived. Although today is an official government holiday in many places, the celebration of this day has changed significantly over the past 50 years or so.
Columbus Day was created as a federal (national) holiday back in 1968, when the United States Congress passed (approved) something called the Monday Holiday Law, which established (started) Columbus Day on the second Monday of October.  (The traditional date of Columbus Day is October 12th, which this year also falls on (is on the day of) the second Monday in October.)  The same law also moved three other federal holidays — Memorial Day, Veteran's Day, and Washington's Birthday — to a Monday. Americans decided that they wanted to have a three-day weekend (Saturday, Sunday, and Monday) more than they wanted to celebrate these holidays on the actual day of the event they commemorated (remembered, honored).
Columbus Day has been celebrated in some places for many years. New York City has had a Columbus Day parade since 1929, and will have one again this year. But in many places, the celebration of Columbus Day has been changed or eliminated, for a variety of reasons. In South Dakota, a state in the Midwest next to Minnesota, today is celebrated as Native American Day, to honor all of the Native Americans (American Indians) who were living here before the Europeans arrived. Although today is a federal holiday, where workers in many national government offices do not have to work, about half of the state governments do not give their employees today off. Here in California, Governor Schwarzenegger is eliminating Columbus Day due to budget (financial) problems that the state has, although today most city offices are closed in Los Angeles.
In some places, they have started "holiday swapping." To swap means to change or exchange one thing for another. A city here in California, for example, voted to swap two holidays — Columbus Day and Cesar Chavez Day (a holiday here in California honoring the famous Mexican American union organizer) — for New Year's Eve and one "floating" holiday. This means that city employees will now be able to take December 31 off as a holiday (it is not typically a holiday in the United States – only New Year's Day is). A floating holiday is a holiday that individual employees, companies, or governments can decide when they want to take — basically, it's another day off of work, but not in connection to any particular holiday.
Italian Americans are not too happy about these changes in the way people celebrate Columbus Day, since Columbus was Italian and they believe his accomplishments should be honored (remembered).  But even the largest city in the US named after (in the memory of) the famous explorer, Columbus, Ohio, no longer has a Columbus Day celebration parade.   If they don't celebrate Columbus Day in Columbus, things don't look good for the future of the holiday.
~Jeff