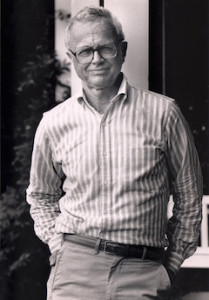 Two weeks ago I wrote about heroes and told you about a few of mine. Sadly, one of them – William Zinsser – died a few days later; he was 93 years old.
Today I want to remember him by doing something that would surely please him. I want to share with you a speech he gave in 2009 to a group of international students about writing in English as a second language. I have used his words as much as possible.
Zinsser said that he was "hopelessly in love in with English because it's plain and strong. It has a huge vocabulary of words that have precise (exact) shades (differences) of meaning; there's no subject, however technical or complex (difficult), that can't be made clear to any reader in good English – if it's used right."
Good English writing, according to Zinsser, begins with good nouns and good verbs. "The good nouns are the thousands of short, simple…nouns…of everyday life: house, home, child, chair, bread, milk, sea, sky, earth, field, grass, road.… When you use those words, you make contact with the deepest feelings and memories of your readers." Never use a noun, he said, because you think it sounds more impressive.
"Your best tools are short, plain…active verbs…. If you could write…using only active verbs" – like he wishes, she learns, or they discover –  your writing would automatically be clear, warm, and full of life. "So fall in love with active verbs," says Zinsser. "They are your best friends."
Zinsser told the international students that there are four principles (basic ideas) of writing good English:
Clarity. "If it's not clear, you might as well not write it. You might as well stay in bed."
Simplicity. "Simple is good. Most students from other countries don't know that. When I read them a sentence that I admire, a simple sentence with short words, they think I'm joking. 'Oh, Mr. Zinsser, you're so funny,' a bright young woman from Nigeria told me. 'If I wrote sentences like that, people would think I'm stupid.' Writing is not something you have to decorate to make yourself look smart."
Brevity. "Short is always better than long. Short sentences are better than long sentences. Short words are better than long words. Don't say currently if you can say now. Don't say assistance if you can say help. Don't say numerous if you can say many…. Don't call someone an individual [five syllables!]; that's a person, or a man or a woman…. Don't say anything in writing that you wouldn't comfortably say in conversation. Writing is talking to someone else on paper or on a screen."
Humanity. "Be yourself. Never try in your writing to be someone you're not. Your product, finally, is you. Don't lose that person by putting on airs (acting better than you are), trying to sound superior (better than someone else)."
If you want to read more of Zinsser's suggestions for writing in English, read Learning to write – in English on my web site. And if you'd like to learn more about writing from him, consider getting his book On Writing Well.
~ Warren Ediger – ESL coach/tutor and creator of Successful English, where you'll find clear explanations and practical suggestions for better English.
Photo of William Zinsser from his website.