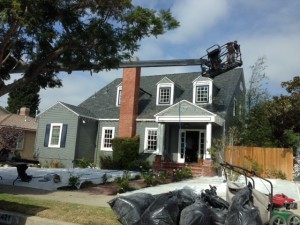 I live in a strange town. Quite often, I'll drive around and see large yellow signs that Angelenos (people who live in Los Angeles) know is a directional (showing right or left, up or down) sign to a filming location. The signs use code names (not real names), so you're unlikely to see one that says "X-Men" or "Modern Family." And if you follow them to the location, you're just as likely to find a shoot (filming) for a boring commercial as for a TV show or movie.
Driving around town, you can also easily spot (find) filming locations by looking for a concentration (having many in one location) of trailers, the large enclosed trucks used for hauling (moving heavy things) filming equipment and as dressing rooms (rooms for changing clothes) for the stars or actors. Sometimes one of these shoots is in my neighborhood, so I'm seldom (rarely) surprised to see those signs or trailers when I drive or walk by. However, I had a surprise last week.
Last Friday, I was driving past my neighbor's house a few streets over (past my house) and I saw a large crane (large mechanical arm; see photo) and several large trucks. That wasn't so surprising, but I slowed down to see what the crane was doing. The crane was moving around the roof of my neighbor's house spraying a white substance (material). When I looked more closely, that white material covered their lawn (grassy area in front of their house) and their trees. It was snowing in Los Angeles!
I noticed that on one of the trucks was the name of the business responsible for this weather phenomenon (special weather occurrence): Snow Business Hollywood. Apparently, there is an entire company devoted to (for the purpose of; intended for) creating winter snow scenes for TV shows and movies. That's what I guess was happening to my neighbor's house.
Anyone who films in Los Angeles is required to get a filming permit (written permission) and the permission of the property owner. Many home and business owners will rent out their properties for a price for a short time for a shoot. I guess my neighbor decided that their house would look good in snow.
Living here, I'm not sure what to expect next — perhaps dinosaurs roaming (walking around over a large area) my street or an alien invasion (creatures from outer space coming to take over or take control)? At least life is never boring.
– Lucy
Photo Credit: by Lucy Tse