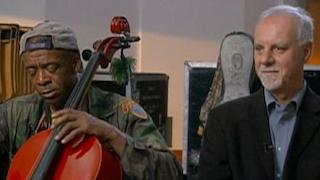 Mr. Ayers (pronounced "airs") and Mr. Lopez have been friends for almost ten years. Some of you may remember their story from The Musician and The Writer. In it, I described their story as "a story about dreams and broken dreams and triumph (success) over broken dreams."
Ayers was a promising (showing signs of future success) young musician who dreamed of playing in a professional orchestra. When he was 19, he began to study at the Julliard School, one of the world's best music schools, in New York.
Ayers' dream didn't last long. He had a mental breakdown (became very depressed, anxious) and had to leave school. His condition grew worse and worse, and he ended up in Los Angeles, a street person (without a home) living under a freeway bridge.
Lopez, a newspaper writer, met Ayers while taking a walk in downtown Los Angeles. They became friends and he told Ayers' story in a series of newspaper articles and a book – The Soloist – that became a movie.
Earlier this year, Lopez continued Ayers' story and wrote about his battle in the Los Angeles Superior Court against a doctor's recommendation to take anti-psychotic medication, medicine that would control his mental illness. Ayers argued (strongly gave his opinion) that drugs like these had caused very bad side effects (unexpected results) for him years earlier.
Lopez wrote that it was difficult for him to listen to the arguments. Part of him wanted Ayers to win. But the other part wanted to see if the medication might "bring him relief (freedom from his illness), clarity (clear thinking) and peace."
The Court decided that Ayers had to take the medication. So he did.
Lopez writes that he began to see positive results from the medication a few weeks later. Ayers became "softer around the edges (easier to be with), more focused (able to pay attention), and more lucid (able to think clearly)." And there were none of the side effects that Ayers had feared (been afraid of).
Lopez and one of Ayers' friends who used to work for the Los Angeles Philharmonic (orchestra) recently visited Ayers at the rehab center (place to treat mental illnesses) where he lives now. Ayers had prepared a musical concert for them, and when he finished, his friend said, "I've never heard him play so well."
Ayers seems to be doing better. He's improved enough that he is allowed to leave the center from time to time. One Sunday he went to church with one of his sister's friends and played his violin for the people who were there. "With all due modesty*," he told Lopez, "I brought the house down (made the people excited, happy)."
Ayers will always have to live with his illness. "I've got my problems, but I wanna (want to) be free," he told Lopez. "I wanna be back out there, using every moment as if it's the most precious (valuable) thing in the world. I don't have any time to waste."
Mr. Ayers' dream continues.
* Some people use "with all due modesty" when they want to talk about something they have done but don't want to sound too proud (satisfied) about it.
~ Warren Ediger – ESL coach/tutor and creator of the Successful English web site where you will find clear explanations and practical suggestions for better English.
Photo courtesy of Awesome Stories.