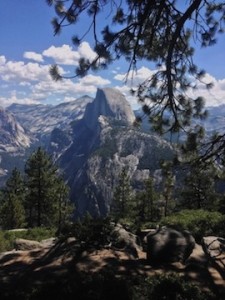 Hiking — taking a long, vigorous (using a lot of energy) walk in the mountains or country (away from cities and towns) — is popular in many countries. Every year many people leave their homes for trails, or paths, which will will bring them face-to-face with the beauty of nature (experience it personally).
Some choose day-hikes, shorter hikes that can be finished in a day or less. Others prefer backpacking, multi-day (more than one day) hikes that require hikers to carry everything they need on their backs in a special bag called a backpack.
When people come to California, they often think about Hollywood, Disneyland, or beautiful sandy beaches, but not  hiking. That's unfortunate, because California offers (provides) many good hiking opportunities. Sequoia and Yosemite National Parks are popular for their rugged (rocky, rough) mountains, thundering (very loud) water falls, and towering (very tall) trees. The sequoia are some of the largest trees in the world.
Big Basin Redwoods State Park is home to a forest of old-growth redwood trees. It's one of California's many state parks and one of my favorites. Old-growth forests have never been disturbed and, as a result, have many features (a part of something that you notice) that you won't find in other forests. When you hike in an old-growth forest, you often feel like you're walking backward in history.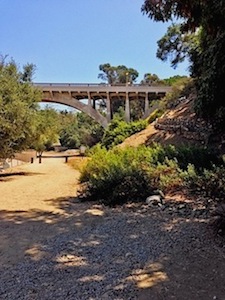 You can also find two other, more unusual, kinds of hiking in California. The first, urban hiking, keeps you inside, or very near, the city. Charles Fleming has described almost 40 urban hikes in his LA Walks newspaper column (articles that appear regularly). These are day hikes that you can take without leaving the city of Los Angeles. Many of these hikes have magical-sounding names, like Ballona Lagoon, Tujunga Wash, Arroyo Seco, Fern Dell, and Elysian Park. Hikers who try these trails quickly discover that they can find and enjoy nature even when surrounded (to be on every side) by the city.
Inn-to-inn (inn = small hotel), or hostel-to-hostel (a place you can stay and eat for very little money) walking vacations have been a tradition in Europe for many years, but not in the U.S. Tom Courtney, a retired university professor, wants to change that. His Walkabout California books and web site describe a series (one after another) of multi-day hikes along the Pacific Coast (the land next to the ocean) and other scenic areas in California.
You could use Courtney's guides to explore California's rugged coast and fascinating coastal towns all the way from San Francisco to Mexico. Or you could choose shorter hikes, usually two to four days long, and explore a smaller area. Whichever you choose, you won't need a large backpack, because Courtney promises that almost every day will "end with a comfortable bed, a glass of wine, a good meal, and maybe even a hot tub (spa or jacuzzi)."
~Warren Ediger – ESL coach/tutor and creator of the Successful English web site, where you'll find clear explanations and practical suggestions for better English.
iPhotos of Half Dome (Yosemite Nat'l Park) and the Arroyo Seco Trail by W. Ediger.