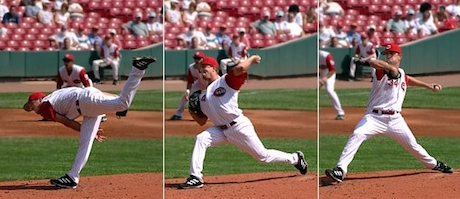 "It's time for … baseball!"*
Yes, baseball season is almost here. And we who live in Los Angeles hope, once again, that our teams will do well. For Jeff it's the Dodgers. For me the Angels. And both teams look good going into (at the beginning of) the new season.
When baseball season begins in two weeks, many players, especially pitchers**, will be able to play because of the pioneering (to do something for the first time) work of Dr. Frank Jobe. In 1974, Dr. Jobe, who died recently at the age of 88, developed a surgical procedure (medical operation) that has made it possible for more than 1,000 baseball players to continue playing after seriously injuring an elbow.
Pitchers often throw the baseball more than 100 times per game. They throw very hard and their pitching motion (arm movement) twists (turns) and bends (moves it so it's not straight) the elbow and puts a large amount of stress (force or pressure) on the ligament (strong flexible material that holds the bones together) in the elbow.
After a while the ligament may begin to tear (pull into pieces). And it stretches (becomes longer) so much that it can't hold the bones tightly together. When this happens, a pitcher begins to feel pain on the inside of his elbow. The elbow may begin to feel loose, and the pitcher may experience tingling (stinging feeling) or numbness (loss of feeling) in some fingers. If the ligament damage is bad enough, it ends a pitcher's career. Or it did until Dr. Jobe developed what we now call Tommy John surgery, named for the first player to receive the procedure.
To do Tommy John surgery, the surgeon removes a length of tendon (another kind of connecting material) from somewhere in the patient's body. He also drills tunnels (holes for the tendon to pass through) in the upper and lower bones of the elbow. He passes the tendon through the tunnels, connects the ends to the bones, and adjusts the tension (tightness) of the tendon. When he finishes, the tendon often looks like a figure eight (the pattern or shape of the number eight) as it passes in and out of the tunnels.
After Dr. Jobe operated on Tommy John's elbow, Tommy went on to have a successful pitching career. According to the Los Angeles Times, he pitched so well after the surgery that Pete Rose, a famous hitter, said, "I know they had to give Tommy John a new arm. But did they have to give him [Sandy] Koufax's (Koufax was one of the best pitchers ever)?"
If you watch baseball – American or from another country – there's a good possibility that you'll see a pitcher who is able to pitch today because of Dr. Frank Jobe's Tommy John surgery.
* Vin Scully, legendary (famous and admired) broadcaster (person who describes games on TV and radio) who has broadcast Los Angeles Dodger baseball games for 65 years, always begins his broadcasts with, "It's time for Dodger baseball!"
** For more about pitchers, read my blog post The Knuckleballer.
~ Warren Ediger – ESL tutor/coach and creator of the Successful English web site.
Photo courtesy of Wikipedia Commons.