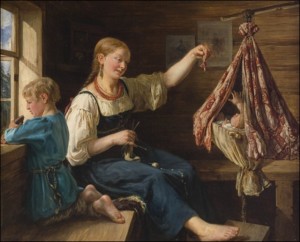 If you're part of a working couple (two people who are married or in a committed relationship) with children these days, you're probably sharing more of the household (related to home) work than parents did 50 or 75 years ago.
According to the American Time Use Survey (set of questions asked of many people) conducted by the U.S. Department of Labor, men and women now work roughly (about; approximately) the same number of hours each week, although men still work more paid hours and women work more unpaid hours. And while men report doing more at home, there is still one area where moms do the lion share of the work (do the majority or most of the work): childcare (taking care of children).
You may think, well, if fathers are doing more of the other housework, such as vacuuming (using a machine to remove dirt from floors, rugs, and carpets), then the housework is equally divided (split evenly) and everyone's happy, right? Not according to sociologists (people whose job is to study how people interact and other social issues).
According to recent research, childcare is much more stressful than household tasks done alone, such as washing the dishes. As one mother put it (illustrated it; explained it) in a recent Wall Street Journal article, "dishes don't talk back," meaning dishes don't argue or reply in a disrespectful or disobedient (not doing what one is told) way. And at bedtime (time when people prepare for sleeping) when parents have to deal with children who are perhaps at their grumpiest (most bad-tempered) and most reluctant (not wanting to do something), it's moms who are most often doing this duty (work).
According to the American Time Use Survey, in a dual-income (both members of a couple with paying jobs) family, the mother is three times more likely to have her sleep interrupted (caused to stop for a period of time) if the couple has a child under the age of one than the father is, and stay-at-home mothers (mothers not working in jobs outside the home) get up six times more often than fathers. Less sleep and more interrupted sleep means more stress.
Do these figures (numbers) and observations jibe with (agree with) what you've observed among families where you live? Are fathers and mothers sharing the work at home equally, not only in the amount of time needed but in the level of stress involved?
– Lucy
Image Credit: François Riss Lullaby from Wikipedia