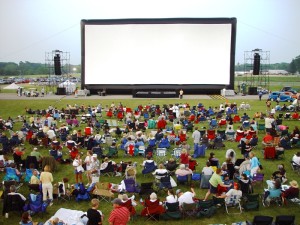 If you've been to a movie theater recently, you may have noticed that there are more trailers (advertisements for future movies) than ever, and they last (continue; has a duration that is) longer than ever. Film studios (movie companies) pay movie theaters to show trailers of their upcoming (future) movies, and movie theaters in the U.S. have increased the number of trailers shown to about six or seven at many locations, while a decade ago (10-year period previous), only three or four were shown.
Trailers are very effective advertising, second only to (only less effective than) television advertising, according to a recent Wall Street Journal article. But there is a constant battle between movie theater owners and movie studios: movie theaters want to show more trailers to make more money, and movie studios want to show longer trailers with a longer lead time (time period before something happens) before a movie is released.
The latest move in this tug of war (contest; battle) was recently made by the National Association of Theatre* Owners, a group that consists of (includes) major theater companies.  It tries to influence rules and policies relating to movies and theaters in its favor (to benefit it).  The Association issued (released) new guidelines (rules) for trailers: they should be no more than two minutes long, and they should not appear more than five months before a movie's premier (showing in theaters for the first time).
As you can imagine, movie executives (important people working in movie companies) aren't happy. They say that the new guidelines are not to benefit moviegoers (people who go to movie theaters to see a movie) who have complained about too many and too long trailers. Instead, they say, movie theater owners are making room for (space for) more advertising from other companies.
Are there these types of rules for trailers where you live? Do you like seeing the trailers shown before feature films (main movies)? If you could lay down the law (make the rules), what would be the ideal situation with regard to trailers?
– Lucy
* Note that, in the U.S., the word "theater" is generally spelled with an "er," not a "re" at the end. However, some organizations and companies in the U.S. like to use British spellings since Americans generally have positive associations with British English.
Photo Credit: Airscreen from Wikipedia