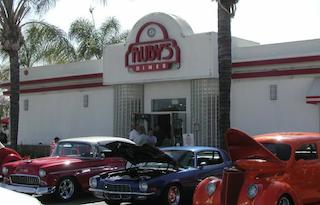 When you walk into a Ruby's Diner in southern California, you take a step back in time, into the 1940s and 50s. The red booths (a table between two long seats), white table tops, soda fountains, and colorful 1940s posters (large printed pictures) are typical of (like, similar to) what you would have found across the U.S. during those years. So is their menu (list of food they sell) – mostly hamburgers, French fries, and milk shakes.
If you visit Ruby's in Whittier, near where I live, on any Friday evening from May through October, you'll experience more of the 40s and 50s. That's when the Ruby's Diner Friday Night Cruise* fills Ruby's parking lot with dozens of cars – many of them hot rods and custom cars built during those years.
In the 1930s and 40s, many American young men, especially in California, began to buy older classic (admired by many people) cars and "hop up" or "soup up" (modify, change) the engines to make them more powerful. Sometimes they took out the original engines and put in newer, larger engines and took anything that wasn't needed off of their cars to make them lighter (have less weight) and faster. They called their cars hot rods; unfortunately no one is sure how the name got started. Roadsters (2-seat open cars) were especially popular for hot rods because they were light and inexpensive (didn't cost much).
These young men with the hot (powerful, fast) cars began a kind of competition, called drag racing – which Jeff talked about in this week's English Cafe. In drag racing, two or more cars raced side by side on a street to see which one was fastest over a short distance. Street racing was dangerous and was eventually (after a time) outlawed (made illegal), so after World War II, many hot rodders moved to deserted (unused) airports and raced on the runways.
In the 1950s another kind of hot rod – the custom car – appeared and quickly became popular. Custom cars often had modified engines, like hot rods. But what made them different were changes made to the car's appearance (how it looks) inside and out, like colorful, unusual paint jobs (if a car has a paint job, it is painted again). When creating a custom car, the goal is to make it look different than any other car. Today there are quite a few custom car shops in California, and some people spend thousands of dollars to have their cars or trucks customized.
The young men – the hot rodders and custom car builders – of the 1940s and 50s are older now and many are gone. But the traditions they started are still alive. You can still find them and their cars at places like Ruby's Diner all across California.
If you're interested, Pinterest has a large collection of hot rod and custom car photos, and here is a set of photos of hot rods and custom cars made from the classic 1932 Ford.
*Many young people used to drive their cars slowly up and down a particular street, usually the main street of a town, as a way to spend time with their friends. This was called "cruising".
~ Warren Ediger – ESL tutor/coach and creator of the Successful English web site.
 Photo credit: cb750cafe.