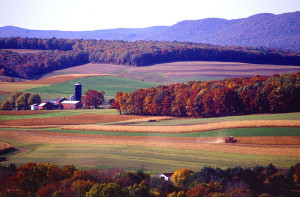 If you live in an American city, you know that the word "easement" means an area on your land that the government says must be used for a specific purpose. For example, many Americans homeowners have easements in their backyards (the outside area behind your house) so that private companies (or the government itself) can erect (put up; install) electricity and telephone poles (very tall, slim pieces of wood or metal that wires are attached to in order to keep them off the ground). Easements are also sometimes used to provide areas maintained by the government that allow rainwater to flow into sewers (a system of underground tunnels carrying waste water).
However, if you're a farmer (person who grows crops for food), you may be familiar with agricultural easement programs, which set aside (keep for a certain use) land specifically for farming. As cities grow, it is often more profitable (making more money) for landowners (people who own land) to sell their land to housing and business developers (builders) than to use that land for farming. At the same time, there is a trend (effort or movement toward something) for locally-grown food, food that is produced nearby, not transported long distances. The logic behind (the reasons for) locally-grown food, according to its supporters, is that the food is fresher and less energy and fuel are used to transport the food to those who buy it.
To try to protect farmland from disappearing, especially around American cities, the government established agricultural easement programs. These programs actually pay landowners to use their land for farms or to sell their land to people who want to farm. According to some sources, about 1.1 million acres of land are part of these agricultural easement programs throughout the country, at the cost to the government of $2.3 billion.
These programs have had mixed (not clearly good or bad) results. Some say that easement land is still too expensive to buy for farming, with some young farmers opting to (choosing to) rent land to farm. Others believe that these conservation (actions taken to keep things as they are) efforts are necessary to keep American farming alive and for environmental protection purposes.
Are farmlands disappearing around the cities where you live? Are there efforts to protect farmland and farming?
– Jeff
Photo Credit:  Farming near Klingerstown, Pennsylvania from Wikipedia