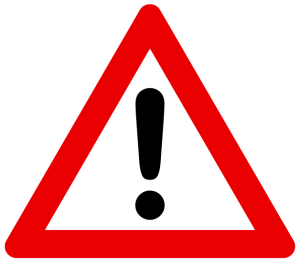 We all know the importance of punctuation. Periods (.), commas (,), quotation marks (" "), semicolons (;), colons (:), question marks (?), and other punctuation marks in the English language give clarity (being clear, not confusing) and meaning to a phrase or a sentence.
On a recent airplane flight, I was reminding of just how important punctuation is in conveying (communicating) meaning. Before take-off (when the airplane leaves the ground) while waiting on the tarmac (road covered with a black material, like on an airplane runway), I took out one of the airline magazines to look at.
This magazine was actually a copy of Sky Mall, which is a catalogue (magazine with things to buy) that tries to sell things to passengers while they suffer from diminished capacity (with weakened mental powers) from having too little oxygen (substance in the air needed by humans to breathe) in the airplane.
Near the back of the magazine, I saw a picture of a T-shirt for sale that read:
LET'S EAT GRANDMA.
LET'S EAT, GRANDMA.
COMMAS SAVE LIVES
If the T-shirt's message isn't clear, let me explain.
1) LET'S EAT GRANDMA:  We will bake Grandma in the oven or cook her on a barbeque and invite Dr. Hannibal Lecter to join us for dinner (from the movie Silence of the Lambs).
2) LET'S EAT, GRANDMA:  We want to enjoy Grandma's company while we eat a meal together.
And, yes, in this case, commas save lives. I know which sentence Grandma thinks has the correct punctuation.
~ Lucy
Graphic Credit: Achtung from Wikipedia