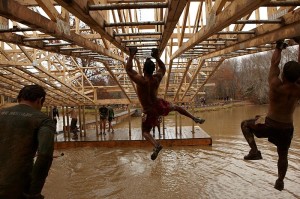 In 2009, Will Dean, a Brit (informal term for someone from Great Britain) studying at the Harvard Business School, had an idea for a new company. His idea was to create a competition (contest) modeled on (based on; following the example of) one of the most difficult tasks on the planet (on Earth): an obstacle course used by the British Special Forces, part of the British military.
An obstacle is something that gets in your way, that makes moving from one place to another more difficult. An obstacle course is a series of activities that are usually physically demanding (very difficult), requiring physical strength and endurance (strength and energy to keep going for a long time).
Dean's business plan was to charge people (make them pay) up to $100 to participate in a grueling (physically very difficult) seven-to-twelve mile obstacle course, in which they would have to run through mud (a mixture of water and dirt) and perform a variety of activities requiring speed, strength, and concentration (focus; attention). Along with a friend, Dean started the company after finishing at Harvard, calling it Tough Mudder.
Tough Mudder's first event (in Pennsylvania, near the state of New York) was promoted on Facebook and drew (had attending) around 4,500 people. That was three years ago. Since then, more than one million people have participated in Tough Mudder events, making it one of the fastest-growing "sports" in the world. The company Dean started is now worth more than 70 million dollars.
Clearly, people like to run around in mud and pay good money (a lot of money) to do it.
Some of the typical activities found in the Tough Mudder competitions include Electroshock Therapy, where you run through mud with electrical wires carrying 10,000 volts hanging over your head; Funky Monkey, where you climb through monkey bars (see photo) over a large pool of very cold water; and Everest, where you run up a kind of ramp or hill that has mud and grease on it.
Tough Mudder also encourages participants to donate money to charities such as the Wounded Warrior Project, which helps members of the military who have been hurt or injured.
I've been thinking about participating in a Tough Mudder event.* I figure (think) if Lucy can go to the Sturgis Motorcycle Rally,** I should be able to run ten miles through the mud. As I say on the English Cafe, "Let's get started!"
~Jeff
* Not true
** She didn't
Image credit: Funky Monkey from Tough Mudder/Wikipedia CC