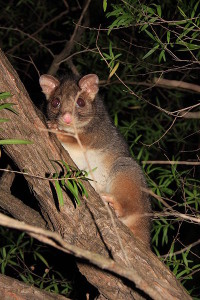 Today, I'm very happy to welcome a guest blogger: Abbe Skones.
Abbe is a former (in the past) ESL teacher in Los Angeles and has worked as a Spanish-language translator. Unlike Jeff, Warren, and me, Abbe is a native of (was born in) California.
Do you remember Warren's post earlier this year called "The Animals are Coming to Town!" about finding wildlife or wild animals in the city? Here are two short anecdotes (short and funny or interesting stories) about her – and her neighbor's – experience with animals in their own backyard and even their own home!
Please join me in welcoming Abbe to the ESL Podcast Blog, and I hope you enjoy her amusing (funny and enjoyable) stories as much as I do.
~ Lucy
…..
I was born and grew up in Los Angeles. In the mid-1950s, at about age 10, I lived with my parents and a Cocker Spaniel dog in a small house with a large backyard with grass. We had one tenant (someone who lives on your property who is not a part of your family, usually paying rent), who lived in the backyard—a gopher.
A gopher is a small brown animal with warm blood similar to a squirrel but larger. It digs tunnels or passages underground, where it lives and from where it emerges (comes out) aboveground to eat plants. The entrance to a tunnel, which is simply a hole in the ground, is marked by (can be seen or identified by) a mound (round bump, like a small hill) of earth or dirt.
Our Cocker Spaniel spent hours racing from mound to mound with high hopes of catching a gopher for dinner. Cocker Spaniels are classified as (considered; said to be) sporting dogs because they usually help hunters (people who kill animals for food or as a type of sport) and participate in other activities in the field, and so our dog was following a family tradition.
My dad had his own reasons for hunting down the gophers: If he didn't, the gophers would have eaten all the plants in our yard!
Our dog raced from hole to hole hoping to surprise a gopher as he peered (looked carefully) through the entrance mound. At the same time, my dad, also running from hole to hole, tried to flush (have large amounts of water pass through) the gopher's tunnels with the garden hose (a long rubber or flexible plastic tube through which water runs).
Who was the winner in this ongoing track-and-field (set of athletic or sports event, including running, jumping, and other activities in an open area) event? I don't remember seeing any gopher exiting his hole in a panic (alarmed; frightened) to avoid the teeth of the family dog or the flood from the hose. Eventually, I guess it grew tired of its persistent (never stopping) landlords (owners of a property) and dug new tunnels to greener pastures (more attractive places).
…..
Fast-forward (move forward quickly) about 30 years: I was still living in Los Angeles, now in another small house with a large backyard with tall trees and a big lawn (open area with grass). This time, the main character of the story was a possum (see photo).
In the apartment next door, a woman lived alone with her cat. One day, she went out of her house briefly to retrieve something (get something; bring something back) and left the front door open. When she returned, she stepped into her living room to find a possum stretched out (with arms and legs apart, in a relaxed position) relaxing on the sofa in front of her TV. My neighbor tried to drive (force out) the possum from her home with no success, and the cat wasn't much help!
In the end, the city's Department of Animal Control – the government department that captures and takes away unwanted animals – came to the rescue (helped) and saved my neighbor and her cat from the intruder (unwanted visitor in one's home).
…..
I hope that you find these anecdotes entertaining. At the same time, I write them here to help us think about our relationship with and responsibility to the animals into whose home we have moved, uninvited.
~ Abbe
Photo Credit: A possum.JPG from Wikipedia