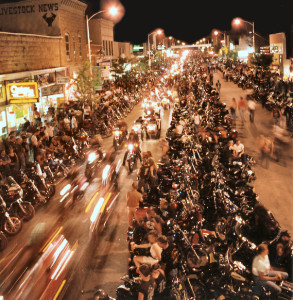 After work today, I'm slapping on (putting on quickly and without care) my helmet (hard hat worn for safety while riding a bicycle or motorcycle), jumping on my hog (slang for motorcycle), and riding 1,300 miles (2,100 kilometers) to Sturgis, South Dakota.
Why?  Because Monday is the start of the annual (yearly) Sturgis Motorcycle Rally. A motorcycle rally is a gathering or meeting of motorcycle enthusiasts (people who are very interested in an activity or a subject), and this famous motorcycle rally is held each year in the first full (complete) week of August. About half a million (500,000) people attend this rally, some bringing their family, including children.
For the small town of Sturgis, which has a population of under 7,000 people, this annual event is a major help for the local economy (businesses located there). Of course, a gathering of motorcycle riders of this size cannot occur without complaints of noise, drunkenness (drinking too much alcohol), and theft (including some motorcycles). I will try not to be too rowdy (noisy and annoying other people).
The first Sturgis Motorcyle Rally was held in 1938. If you attend these days, you'll see motorcycle races and stunts (dangerous and/or difficult tricks).
Some of the races are quite involved (complicated). One race, for example, requires riders to crash through board walls (walls made with thin wood), jump ramps (slopes or inclines you ride up that takes you off the ground and causes you to fly in the air before hitting the ground again), and meet head-on collisions (hitting something while facing it) with other vehicles. Sounds like fun, right?
You've all seen my very impressive high-powered motorcycle in the Eighth Anniversary Video. So if you want to join me, hop on your hog and let's head to Sturgis!
~ Lucy
Photo Credit: 2008 Sturgis Motorcycle Rally, street at night from Wikipedia