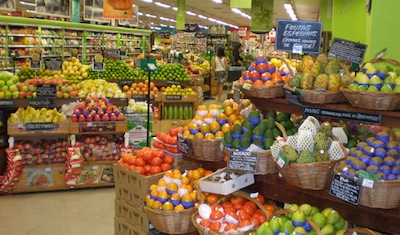 When I went to the refrigerator this morning to pour myself a glass of orange juice, I noticed a label near the top of the container that read "Sell by Sep 10." I looked around and found a similar label on the milk that read "Jul 29" and on the eggs "Jun 26."
Most U.S. food producers (people who prepare food for sale) place labels like these on on their perishable (food that may become bad quickly) and canned (food that is processed and placed in metal containers) foods. Fresh (recently picked or prepared) meat and produce (fruits and vegetables) don't usually get labels because people eat them soon after they buy them.
Food labels aren't required by the government. Food producers use them to help customers know when the food is fresh and safe to eat. Typically (the way something usually happens) there are three kinds of labels:
 "Sell by" labels, the most common, refer to the last day a store should sell the product. As the sell-by date nears, stores usually move these products to the front of the shelf so customers will buy them before the date on the label. Even if the date has passed, these foods are usually safe to eat for up to 10 days after the sell-by date if they're stored properly. Meat and poultry (chicken, turkey, etc.) can be stored even longer if they're frozen.
"Use by" identifies the last day that the product will be fresh and have good flavor and texture (how something feels). After this date, the food is still safe to eat, but it may not taste as good.
The "Expiration date" label on a food product has a simple message: if the date has passed, don't use it.
What happens if the sell-by or use-by dates pass and no one has bought the products? Since most foods are safe to eat even after they begin to lose their flavor, stores try to find alternative (other) uses for them. According to an article in Forbes, fresh vegetables and meats may be cooked and sold at the store's deli (delicatessen), where they sell cold cuts (thinly cut pieces of cooked meat that are eaten cold), special cheeses, and salads and other prepared foods.
Canned, boxed, and bottled products are frequently sold to discount stores, where you'll find outdated (old; after the date) but usable cans of soup, boxes of cereal, and bottles of ketchup and salad dressing. Many stores donate (give) outdated products to food banks (organizations that give food to poor and out-of-work people) and soup kitchens (organizations that prepare meals for homeless people).
In spite of (without being affected by) stores' attempts to sell or give away food products while they're still usable, some food still becomes unusable and must be thrown away. In short, it becomes garbage.
Some stores haul (transport by truck) this unusable food to a landfill (a place where waste is buried in the ground), where it decays (is slowly destroyed by a natural process) and releases methane (a burnable gas) into the air, which contributes to (helps cause) global warming. Many stores send their food waste (something that can't be used) to plants (place where something is made) where it is converted (changed into something different) into compost, a mixture of natural products used to make soil better for gardening and farming.
Krogers, one of the largest supermarket companies in the U.S., has an even better idea. Not too long ago, they demonstrated (showed how something works) a plant in the city of Compton, near Los Angeles, that makes them the first company to convert food waste into electricity.
At this plant, the waste is pulverized (crushed into tiny pieces) and mixed with waste water from a nearby dairy (farm that produces milk) to make what one executive calls "a 'juicy milkshake' of trash." This mixture is pumped into a large tank (large container for storing liquid or gas), and the oxygen in the tank is pumped out. Bacteria (very small living things) in the tank convert the mixture into methane gas, which rises to the top of the tank. The methane is taken from the tank and used to power three nearby generators (machines that produce electricity).
Krogers' first plant produces enough electricity to power 2,000 homes. And the solid material that is left over becomes enough organic (natural; made from living things) fertilizer to feed 8,000 acres (3,237 hectares) of soil for farming and gardening.
In addition to the electrical power and fertilizer produced by the plant, Kroger says this process will reduce (make smaller) its waste by 150 tons (130 metric tons) a day. Since the plant produces no bad odors, it can be located in the city, and there is no need for Krogers' trucks to make six trips a day – nearly 500,000 miles a year (805,000 km) – to haul the waste to the nearest composting plant.
Eventually (after a period of time), Krogers expects this project to save the company 110 million dollars. They're so confident (sure it will happen the way they want) in this plan that they're already planning more plants in the Los Angeles area and other locations across the country.
~ Warren Ediger – English coach/tutor and creator of Successful English, where you will find clear explanations and practical suggestions for better English.
Photo courtesy of Wikipedia Commons.