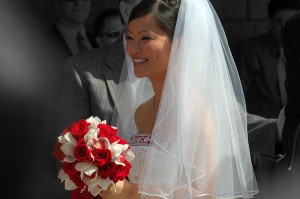 We are in the month of June, a very popular month for weddings here in the U.S. According to an annual (yearly) survey conducted by a popular wedding website, The Knot*, December is the most popular month to get engaged (officially promised to marry), and June is the most common month for weddings.
A June wedding makes sense for several reasons. The most obvious reason is weather; you are most likely to avoid the rains in spring and the dogs days of summer (hottest days of summer). In June, you'll also find many types of flowers in bloom (open and showing color) and there are many options for outdoor venues (locations for an event). Having a wedding in June also makes it easier for guests to attend, since many schools and universities are on summer vacation by the first week of the month. Lastly, finding an attractive honeymoon (wedding trip) destination (place to go) is also easier in June.
So you're ready for a June wedding, but what is a bride (women getting married) to wear? If you're very creative and unconventional (unusual; not following traditions) , you might want to opt for (choose) this recent creation. A fashion website and a popular toilet paper company teamed up (worked together) to have a contest (competition) to see who could create the best wedding dress out of toilet paper, and this was the winner. I personally think that it is a masterpiece (very fine work made with skill and an artist's eye).
Seeing this creation got me thinking about the most creative things that could be made out mundane (dull; not exciting) things such as toilet paper. I have nothing against toilet paper, mind you (just so you know; for your information). I appreciate its existing many times each day, but it made me wonder what else can be made with everyday things.
What's the most creative thing you've made or created out of unconventional materials?
~ Lucy
* "To tie the knot" = to get married
Photo Credit: Bride with bouquet from Wikipedia