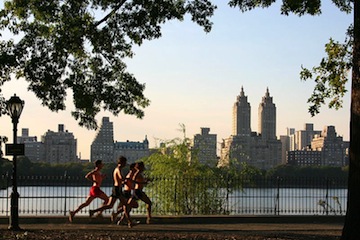 Fit or fat is the title of an interesting little book by Covert Bailey, a well-known fitness expert. In it he tells us that we have a choice – to be fit (healthy; able to do physical activities) or to be fat.
If Bailey is right, too many people in the U.S. seem to be making the wrong choice. The U.S. Centers for Disease Control (CDC) tells us that the U.S. has a problem – too many of us are obese, which means having too much fat. Some fat is natural and necessary. But obese people have so much fat that it is not healthy. As a result they have less energy, they get sick more often, and they don't live as long as people who are fit. The CDC reports that about 35% of U.S. adults and 17% of children are obese.
Eating better can help solve the problem. But, according to Bailey, "the ultimate (main or most important) cure for obesity is exercise." It's even more important than what we eat. He explains that obesity goes down as we grow our muscles and increase the muscle enzymes (chemicals that help our bodies work or operate) that burn up the fat. And to do that, we need regular exercise. "The choice is for fitness or fatness," he writes, "to exercise or not to exercise."
The question is what kind of exercise and how much. Many experts have said that we need at least 150 minutes of aerobic exercise a week – 30 minutes a day for five days. Aerobic exercise includes activities like jogging (gentle running), running, swimming, cycling, and walking. It's exercise that is hard enough to make our hearts beat faster, our breathing to get heavier (require more effort), and to cause us to sweat (our skin to become damp or wet). But it's easy enough to do for a long period of time.
Unfortunately, a recent New York Times article reports that 80% of the people in the U.S. do not get this kind of exercise. Many don't do it because of the time it requires. As a result, some scientists have been trying to discover if smaller amounts of exercise will provide similar benefits.
The answer seems to be "yes". This spring, at the annual (yearly) meeting of the American College of Sports Medicine, many people who attended the meeting agreed that a few minutes of hard exercise is enough to help people become more healthy or fit, if it's the right kind of exercise.
One study suggests that 30 seconds of "all-out (as fast as you can) pedaling" of a stationary bicycle "followed by a brief rest, repeated five or six times" led to similar results as 90 to 120 minutes of aerobic bike riding. Other studies seem to show that only "16 to 30 minutes per week…of highly intense (requiring a lot of effort) exercise also improves certain markers (indicators) of health…." High-intensity exercise seems to be effective and takes less time, but it is very hard work.
If you'd like to see an example of a seven-minute high-intensity workout you can do at home without any special equipment, check out (look at) this article from The New York Times Magazine.
One of the scientists said that high-intensity exercise "may not be the ideal (best) form of exercise for everyone. And we have a lot more science (research) to do." But he added, "I'm 45, with a family, and very busy. So…this is how I work out (exercise) now."
I prefer aerobic exercise, partly because I enjoy it. I ride bike for 30 minutes four or five days a week and for about two hours on Saturday or Sunday. Do you exercise regularly? Which would you prefer – aerobic or high-intensity exercise?
~ Warren Ediger – English coach/tutor and creator of Successful English, where you can find clear explanations and practical suggestions for better English.
Photo courtesy of Wikipedia Commons.