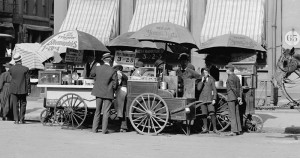 Every city has people selling things on the street. After all, where can you find more foot traffic (people walking by) than on a city's sidewalks?
New York City would be a very different place if it didn't have its many street vendors selling food and other products. Street vendors can sell just about anything, including food — both cooked and uncooked, such as vegetables and fruit — and non-edible items, such as jewelry, luggage, paintings, clothes, cell phone accessories (items used to make something even better, or easier to use), and more.
To be a legitimate (real; following the rules or the law) street vendor in the U.S., you'll need to follow the laws and regulations, which differ (are different) for each city or state. However, you normally need at least three things.
1.  A sales tax permit and tax certificate — These give you permission from the government to collect tax each time you sell something, so that you can then give that tax money to the government.
2. A general business license — All businesses need a business license that allows the business owner to do business.
3. A vendor license — This is a special license in addition to a business license that allows you to operate on the street.
These are the things you should have if you're a street vendor in the U.S., but many street vendors in big cities set up shop (operate a business) illegally (without following the law). In most cases (normally), the police turns a blind eye (ignores them) unless there are complaints and problems. That's exactly what's happening on one popular street in a neighborhood in Los Angeles called Watts.
In Watts, there is a street known for street vendors called Beach Street. The licensed businesses on the street, people with stores along the street, are complaining (saying that they don't like it) that vendors are taking away their customers. The city is complaining that they're losing sale tax money. Now, officials are considering stricter (greater demand that a law or rule be followed) rules for street vendors.
Are there many street vendors where you live? Are there laws and regulations for street vendors? Do you think they're a blessing (good thing) or a curse (bad thing) for your community?
~ Lucy
Photo Credit: Frankfurter stand from Wikipedia
________
A note about the "Podcasts This Week" poll
Thank you to those of you who voted and/or commented on our April 25th "Podcast This Week" poll. The results show a preference to keep the Monday posts, with about 46% voting to keep them and 28% voting to get rid of them. We will, therefore, continue to post the "Podcast This Week" messages each week.
We really appreciate you voicing your opinions and helping us make the ESL Podcast blog the most useful it can be!